Make Ameraucanas Great Again
Premium Feather Member
Nov 5, 2018
5,369
43,042
972
Wanted to share a few photos of our poultry processing setup.
This is the killing area "stump".
We wack and then drop them into the cones to hold the bird snug.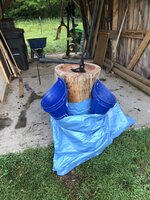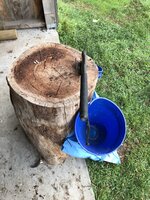 Scalding and Plucker area.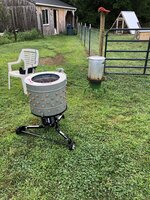 Strongly recommend the yardbird for backyard setups.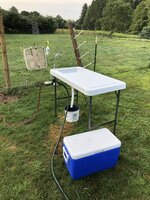 Eviscerating table is a must have. This built in sink and faucet for $50 is a great buy. The fan is great at keeping the flies away and me cool. Next to the fan is my spray bottle cleaning solution of about 15% liquid pool shock to water mix. I use a canopy to cover/shade the area when we get started.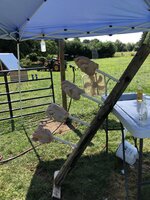 My homemade drying rack once done and just before we shrink bag them.
Yes folks as you can see on the table we do enjoy a "few" drinks while processing!!
Hope you enjoyed
Last edited: