I have three geese that were sold to me as pilgrim geese, they are one year old now.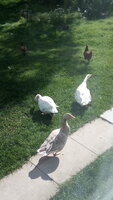 I am sure this one if female and seems like a pilgrim goose.
And this one male as he is larger than the other two and has been observed mating with the grey female, but it is mostly white with brown/grey spots. So possibly a mix?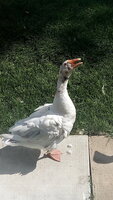 This one I am unsure about. If they are pilgrim geese then this should be a male goose? It is white with one small greyish spot on its back. What also confuses me is that it would sit on chicken eggs and it is also the same size as the grey female. I haven't noticed it mating, and it does not fight with the larger goose.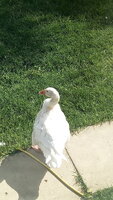 Can anyone help me with identifying if they are actually pilgrim geese and just happen to have odd coloring or are a different type and if the last one is a male or female?
Thank you