Jul 3, 2016
6,864
13,266
642
My Coop
Hmm guess I should've included photos too.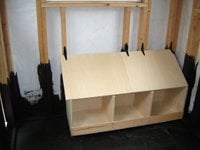 So each compartment is 14.5" cubed though the back rises to 24" tall since this box is inside the coop and the slope keeps them from sitting on top. Top is hinged, I added a latch later on so the top can be latched open for cleaning. Box sits about 3" off the floor on legs made of scrap wood, front lip is fairly low, about 2". My bedding is about 3-4" of wood chips so this makes it easy for the hens to step in and out.
If you wanted to add curtains they could be stapled to the inside of the lid.