Well, my fiance and I started this project back in October of 16, this is the first chicken coop we have built. We decided to make an addition off an existing cattle barn, and build an 8x12 coop with a 600 sq ft attached run. Since the pre existing cattle barn had a partial concrete floor, it was easy to frame in an addition.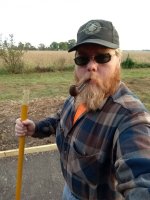 Here I am packing down the rock waiting on the concrete to be delivered.
I was sure to put bolts in the concrete to secure the coop to the foundation. I have a bad habit of "over engineering" projects. Since it was almost winter, we decided to build the walls of the coop in my barn, then move them to the concrete slab after they were finished. Building the coop walls in the barn offered us some relief from the weather-although our winter was very mild-as well as extra light. My father helped me construct the walls after I got off work.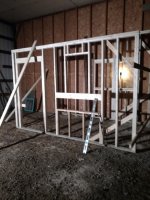 My fiance and I don't do anything without a lot of research. We read that the chickens need some more light in the winter to keep up with production. So after we moved the walls outside and secured them to the concrete via the bolts, we started to attach our metal siding. We made sure there was plenty of ventilation via windows and eve vents. and to add extra light we also added a skylight! there is over 21 sq ft of ventilation in the coop, not counting the human door or pop door.