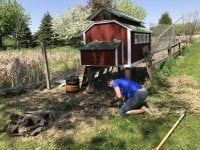 Built this coop, now am questioning is it more cute than functional.
I am in a small town central Minnesota.
Every day is Saturday (retired). Probably old enough and smart enough to know better than get chickens when I also have 4 terriers. They were quite interested in them as chicks, more interested now they are BIRDS!