Hi all! I can't believe I've been hanging around here for almost 6 months and this is my first post. I've been trying to learn as much as possible from everyone here in preparation for raising my own flock. Well... as usual, I only planned on getting 6 or 7 chicks to start with and ended up changing my mind and ended up ordering 26 chicks from McMurray and got one extra in the box. 5 BO pullets, 5 EE pullets, 6 BR pullets, 6 BLRW straight run and 5 CM pullets. They were supposed to arrive today (Monday) but around 7:30pm last night I got a call from our distribution postal warehouse about an hour away saying "come pick your cheeping chicks up". I had NO problem with that!!!


I felt like an expecting momma whose water just broke. I was completely caught off gaurd. So I hopped in the car while my DH filled the water and the food and turned on the light in the brooder to get things nice and toasty. I picked them up and everyone was chirping. I got them home, opened the box and couldn't believe how many chicks they were able to squeeze into one box

Everyone settled in nicely. They are so amazingly cute! Unfortunately, I don't think I'll be able to keep all of them. I need to find homes for about 10 of them just because I don't think our coop is big enough for 27

Anyway... below are some pictures of our new fuzzy butts

I had never picked up a tiny chick before so I was so scared I was going to hurt it.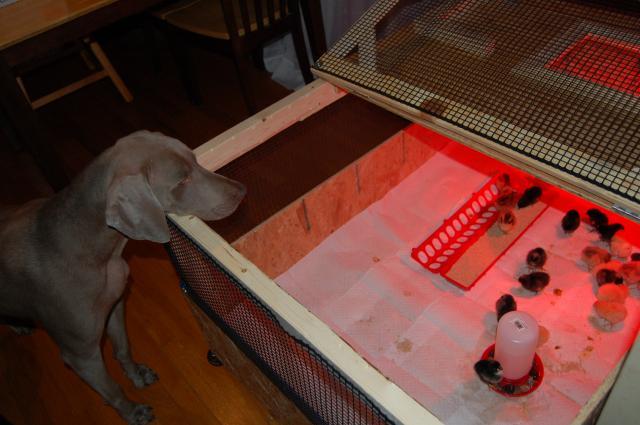 Our Weimaraner, Hallie, checking things out...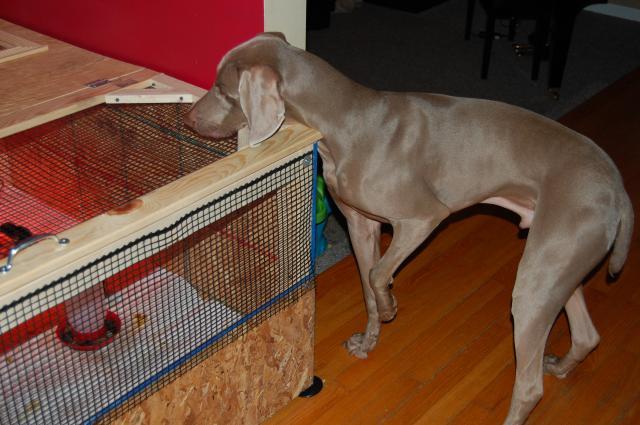 Our other weimaraner, Luke, is actually pointing at the chicks.
added a teddy bear and they all cuddled with it like it's their momma
the mirror was a big hit!
Thanks for looking at our new babies! We're in love! Oh, one question actually... The chicks all seem fine, a couple with the beginning of pasty butt so I've cleaned them up the best I can. But some of them are stretching one of their legs back and then going about their business. Is this just normal chick behavior or are they trying to tell me something? Thanks everyone!
~Liz