I have a RIR roo named gilda. I raised him from a week old chick and he has never given me issues (just a very mellow guy that i can call and pick up w/o issue). He is currently reaching the year old mark.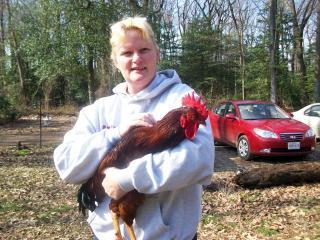 my mom holding gilda
Take note: He has never been aggressive to me or anyone around our house.
me with gilda
Today my older sister was visiting (she comes over once a month and doesnt do much with the chickens so is a bit unfamilar with them), gilda charged at her and tryed to flog her! She had to kick him back but he kept charging at her. Meantime i am currently at work and i am getting these frantic text from her asking me what to do. She was able to grab him but couldnt pick him up.
I am in shock bc he is such a mellow rooster and shows no aggression towards us that live there.
I really dont want to part with him bc he is great to us and his ladies.
do you think this is a rare occurance bc she was unfamilar?
or do you think he is generally getting more aggressive?
either way, he is on notice and I am going to have a talk with him when i get home.
Last edited: