Jun 3, 2017
125
67
131
My Coop
I looked into the coop today and couldn't figure out what my keets were doing. I thought they were looking for bugs! Three of them are hanging over the side and one is sleeping nearby.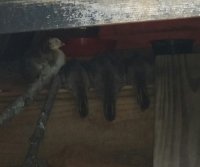 It turns out they were SLEEPING!!!

With their heads hanging over the side!!!
I took a second pic and the flash woke them up!! These little munchkins never cease to amaze me!
I also noticed that three of them stick together and one of them seems to be the odd man out. It is usually close by the others, but not doing the same thing as the others. The odd ball is also the one that seems most comfortable with me... will climb into my hand and let me hold it whereas the other three are still skittish. Any thoughts as to why he seems like the odd man out? Is this normal behavior?
Last edited: