My babies are too loud for my neighbors (big surprise, eh?). :-/
They are my first ducks, and I'm still pretty new to this poultry thing... how do they stack up?
Calls
BEIs (not the greatest pics... sorry!)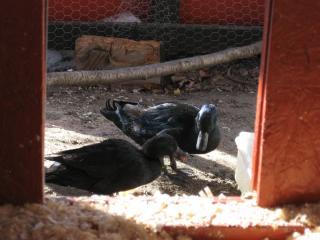 More pics and full info on the sale thread
here
.
The call ducks are about 6 mos old - I have a pair of lavender calls (Earl Grey and Cappuccino) and a chocolate call hen (Mocha) that were bred in the area. I don't have the breeder's name but I can track it down if anyone is interested (he was at the show in Oxford, MA in June, if that helps...).
My pair of BEI (Apollo and Calliope) are about 1.5 yrs old and were bred by Shaun Streeter here in MA.
ETA: the pic of the calls is from June (~4 mos old) and the pics of the BEIs are from Jan
Thanks for the feedback!
Last edited: