We were in the bulleye area of the storms that raced into the midwest tonight. The second round came through and I took cover in the basement with my dogs and cats. When it was over, I went to check on the chickens. The first two coops were good but I couldn't see the third one, the roo coop, through all the debris. A large tree had went down and tore through the roof. Luckily the sill kept it from totally crushing the coop, although it hit hard enough that the two concrete paver stones I used to level the house on that side, were crushed in two. (I'm glad I used 2x4 construction on it) Thankfully the seven silkie roos that live there were on the other side of the coop and didn't have all the roof debris fall on them, they were ok, not even a scratch, even though I am sure it scared them to death when it hit. They are in a make shift pen in my biggest coop for tonight. I have to think of something to do with them tomorrow, a makeshift outside pen of some kind. A confirmed tornado tore off a bunch of farm roofs just down the road from me so I'm not sure if my tree went down from the wind or was part of that tornado, we were getting a lot of hail at that point. Either way, this is very sad for me.
My family keeps reminding me that at least it wasn't the house and the roos were all ok, but it still sucks. Preliminary look makes me think that I can't save it. The whole back wall looks like it has been shifted and I'm fairly certain that the base wood/ floor is probably cracked on that side, and it was such a pretty little house. Only built it last fall. Makes me sad. This was it before the tree.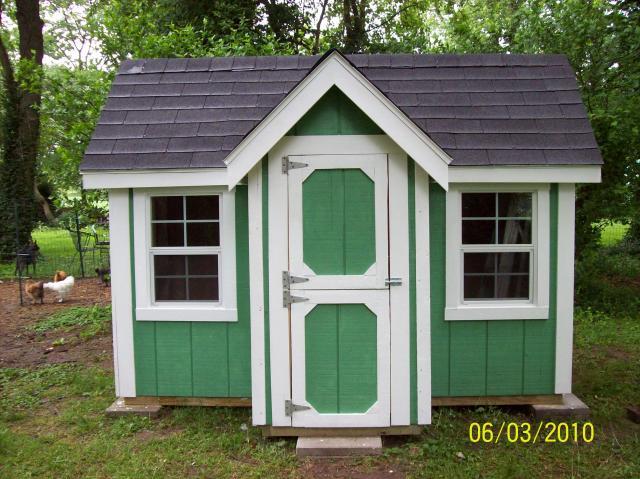 I'll take a picture of it tomorrow in its current state. The top of the tree took out the back fencing that was shared with the fenced in dog area. It made it into an accordian. The other chunky end of the tree base is on top of my two other fences in the chicken yard. That part is going to be a pain in the rump to keep from squashing them as well when the tree gets cut up. I HATE STORMS!
I hope everyone else escaped injury and damage tonight. My prayers are with you.
Last edited: