I have been nursing my gorgeous black silkie for a few weeks now see post urgent advice from all you lovely guys here!
She has come up with a few swellings that have burst? well scabbed over and reduced in size. These swellings started on her crop and places where there were very little feathers. We then noticed she was getting these on her feet and on her face.
This is what she looks like on one side now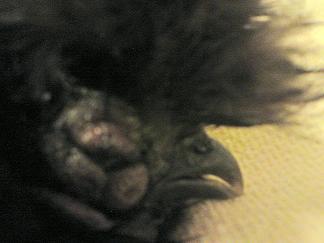 Does anyone have any idea what in the world this is??!?
No pus comes out of the swellings at all and same with the eye