My mother is 86 years old and suffers from dementia, as well as having suffered 2 strokes and numerous other health problems. She's lived much longer than any of her doctors ever thought she would. More than once the family has been called in to say our good-byes. For those of us who care for her, it's been very difficult. My father is 91 and though he's still going strong, the burden of trying to care for my mother on a daily basis started to take its toll.
My oldest sister quit her job and moved a trailor on my parent's property to be close by and help out. The rest of us (8 more siblings) take turns on the weekends tending to Mom, giving my sister a much needed break. Some of the family drives long distances to do their part in caring for these two beautiful individuals we call Mom and Dad. I live in a neighboring town.
We never know what world my mother will wake up in, whether or not she will recognize any of us, or decide she's angry at the world and become combative. Several of my siblings have been phyically attacked at times by her. We understand that she doesn't know what she's doing and it's not her fault. But it still hurts.
This was my weekend to tend to Mom and this morning I arrived at her home to find her sitting on the side of her bed.... in one of those moods

Often I can distract her enough that she forgets she was angry or unhappy. In fact, I'm getting pretty dang good at it!

Today I went prepared... I took along a small pet crate with two baby silkies inside.
Mom had never seen any of my chickens, though I tell her about them often. When she saw my babies, she immediately went from this...

to this...

I hope when I get old and hard to handle... someone will bring baby chicks for me to hold.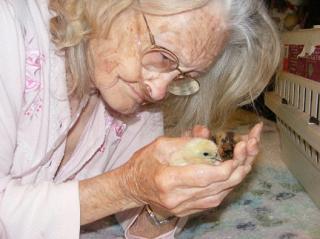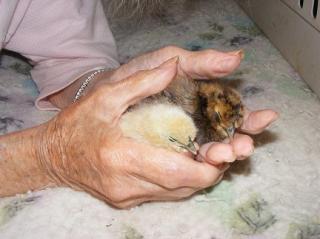 Last edited: