My new coop is here!! Isn't it beautiful?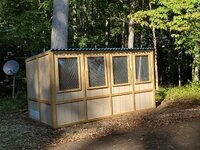 It was a custom order from Kroeger Critter Keepers and I love it

Now I want to paint the wood parts... but what colors should I use??
It is going to stand on the far, back side of our front/side yard. At the edge of the grass close to the woods. And since it can't "blend in" it will need to stand out

I'm thinking of the window frames and door being one color (purple? Yellow? Dark barn red?) and the rest of the wood being the same color as the roof.
Thoughts??