CLICK HERE TO LEAVE A COMMENT. LOVE TO HEAR FEEDBACK!

More work on the coop this weekend, after recuperating from SEVERAL days of stomach flu. Spread through the house like wildfire, evil thing.
I swear, this picture makes me want to name it Coop Domo Kun.
The T1-11 was nailed up in place (not easy for one person) and a Roto Zip was used to cut out all the openings. Was actually fairly easy, besides smacking my thumb a few times in a row.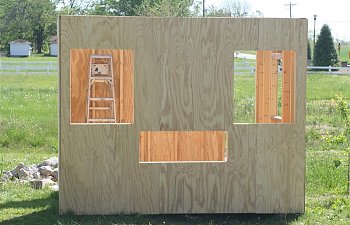 I've still got to cut out the opening for the cleanout door under the window at the side. For now it will stay sheeted since I want to get the chickens moved out ASAP. One day when they're out I'll finish up that cleanout door.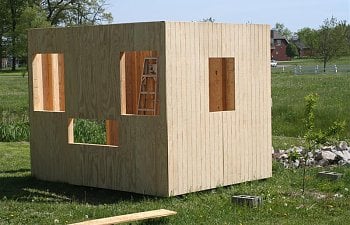 Another thing I'd learned... Measure your door..

I knew I needed to make my own door jamb, that wasn't the issue. My problem is I didn't measure my donor door. It's a tad thinner than I'd thought, so I'll need to play around to get it mounted.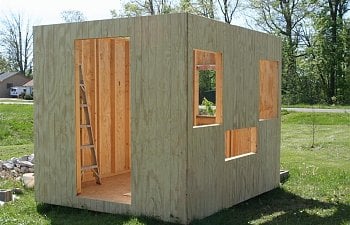 Piles of scrap wood litter the floor inside. I'll be making use of as much of this as possible for various things, such as sheeting the nest boxes or whatnot.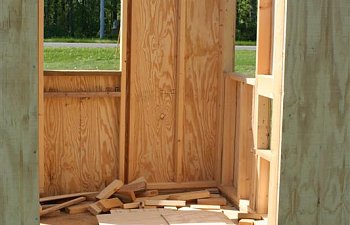 Over the nest boxes I chose to use a 2x6 header instead of 2x4's since there will be more weight on top of this area. I chose to frame it out like this because I wanted the option of building the nest boxes externally or internally. I'm still weighing the options for both.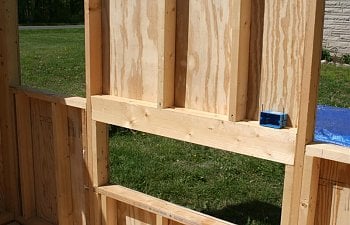 The sunken section in the back where the roosts will be is filled with scrap and sawdust.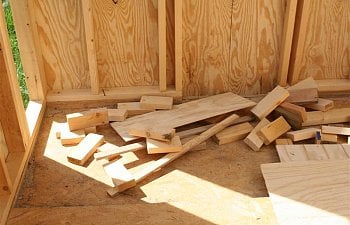 So far some of the things I'd learned working on this..
1.) It really is best if possible to apply the sheeting to the walls BEFORE you hoist them into place after framing them up on the deck.
2.) Mind your 16" OC... Else you'll need to add more studs just to hold your sheeting.

3.) OSB is extremely difficult to nail through. You'll be screwing it down, for sure.
4.) How ever many nails you think you'll need, buy an extra box. You'll need it.
I'll no doubt add more later once I complete this project and set up my page on it.