10x12 Dog Kennels Can Fly!
Our design is great for having the water run off of in a storm, they held up beautifully in that respect! The winds up here were blowing in gusts up to 90+ mph, slamming into the house and coops without mercy. The insides stayed dry, with mild air flowing through some openings, but the temps were not too bad...But then we went on a 4x4 trip on Saturday November 1, 2008 and when we got home, apparently the Cuckoo Marans pen had become a giant Parachute!! How the wind managed to lift a 10x12 kennel with a welded conduit roof, I have no idea? But it was upside down, and 15 feet across the yard! We're using a tractor to hold it down, until we can permanently anchor it with t-posts and hose clamps. We had a smaller one move 3 feet and tip over the next day, no casualties either time, just a few ruffled feathers! What a mess. I need more permanent structures than the two I have besides the five Kennels.
We have several converted Dog Kennels as coops/runs, and Frankie has been making metal tops for them so that the tarp covers can be fitted better for weatherizing. We have five kennels total, they are all completely covered now. A little more interior decorating, I want have added nest buckes to the front kennel, and we're set! Each kennel has roosts, has nest buckets or boxes, and can be closed for safety. They all open up into the large pet area, and they have several sheltered areas to escape the weather and hang out also. We also have a large outbuilding that used to be used as a shed, we moved it from the other side of the house with a winch on our 4x4 and huge rolling polls, it was awesome! Now it as coop/brooder room/food storage room. We also have the "barn" another structure with 3 3/4 sides, and an opening, and dirt/straw covered floor.
Frankie at work: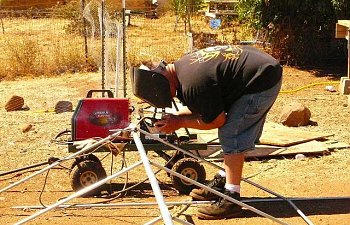 We are making alot of progress in the pet area, and I have a smaller kennel that is now covered with wood on the sides,that we are putting the pygmy's and her friend "goat", the call duck, in it at night while we are making sure there are no more skunks in their yard. So far only the one.
Once I make sure we are safe, I want to restore my flock, hopefully with some friends like we had. (I miss the Sizzles, Frizzles, Delawares and such)
Having a predator has actually gotten my family more involved in the chickens and pets! Frankie has always lent a hand when I needed help or asked, but he's actually taken the lead in the yard now to make things more secure, even to the point that he is running a trench to the area and installing electricity in my outbuildings! He has been outside every evening with me lately working on one project or another, and he keeps an eye out for specific chickens that he's partial to....It feels so good to see him walking around the yard carrying one of the girls and absent mindedly talking to her like she's going to answer him, kinda like I do!
Its been raining and so far it pretty windy, everyone stayed dry unless they are standing out in the rain, silly birds. We buttoned things up, layed out the straw, and we're almost ready for winter now. And silly me, I had babies hatch on October 12, 2008! They are doing great in their Brooder Room in the "Shed" Coop!
An egg laying discussion: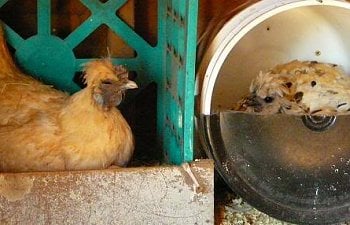 One of our coops is a converted shed - I am trying out different nest options - here are the buckets. So far, several of the girls think they are great! (Notice the Red Dirt Dye Job on the girls, all the fashion here among white feathered birds at tfpets place!)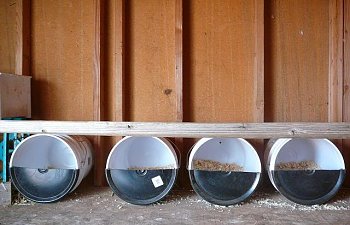 [FONT=comic sans ms,sand]
This is the Hover Brooder - It has definitely worked out well and I highly recommend it for outside/indoor use (we have it inside the shed-coop, used it all winter and it rocked!
[/FONT]
[FONT=comic sans ms,sand]
June 2009 Frankie added a 12 x 20 carport structure for some of our birds, we moved the Mandarins and Mr. Frizzy down to the area as well. They are at the back of the structure, tied in to the frame. The front is framed in with a door. Mr. Cuckoo and the Cuckoo Marans ladies are on the left.
[/FONT]