Welcome to my BREEDS Page
​
Breeding pen with hatching eggs available: If you see something you want just PM me and I will let you know what is available.
BBS Copper Marans Pen - Blue Copper Marans with 6+ Blue and Splash Copper Hens.
​
Barred Rock Pen - Good Shepard Barred Rock Roo with Blue Barred Pullets and Hens 50/50 Blue and Black Barred Rocks.
​
2nd Generation Blue Barred Pullets. I am on 6th generation and the barring on the blues is MUCH improved. I need to get updated pictures.​
Spring of 2016 - I am reducing this flock of Lavender Ams. I am going to keep a trio of WHITES that my Lavenders produced so Lavenders are still going to show up I am sure.
​
Cuckoo and Blue Cuckoo pen - was all but lost to a racoon attack. I have some rebuilding to do but it is going to be hard since my rooster died from infection from the attack.
RIP - The Roo is HUGH and so are several Pullets.
​
Sapphirs - Cross of a CCL roo over White Leghorns. Chicks will be white with black spots. ALL the chicks from the CCL roo are Barred. I also have some Ex/WL crosses so you will get some colored chicks since the pullets only carry one copy of Dom White. They are not sexlinked and they may or may not have a crest.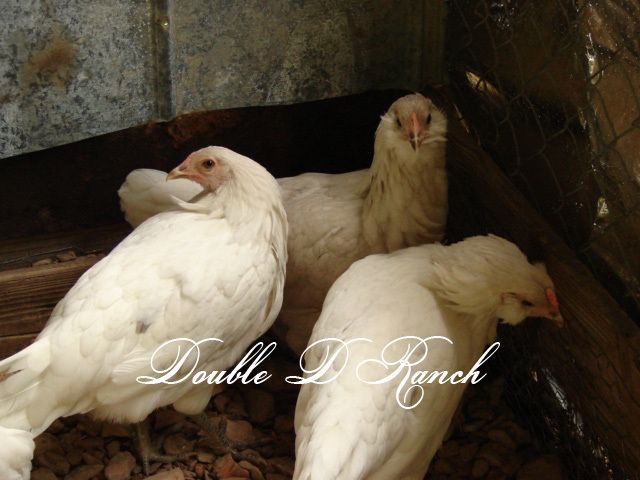 Exchequer Leghorn - I do still have blue exchequers they are very PRETTY. Hoping this year will really get them going and can sell eggs finally. I have a pure Exchequer cock over both blue and black exchequer pullets. MIGHT have eggs available May 2016.
I have gotten some really unique color birds since crossing with the WL.
​
White Leghorns - I still have WL just not a breeding pen right now. I am waiting on pullets growing out. Going to work on Rose Comb White Leghorns this year! Those combs are not fairing well in freezing temps.
​
I also have Mille Fleur Leghorns, Isabelle Leghorns and Brown Leghorns.
Silver Penciled Wyadotte Bantams - From Jerry Foley LAYING like CRAZY
Crested Cream Legbars are Laying but I am still hatching for me right now!
Silkies - White, BBS, Buff and Porcelain, Paint whites and blacks 2 are show girls. Selling the BBS and White pens. Going to work on the other a bit more.
Blue and Reg Partridge Rocks
Silver Penciled I am making projects with them.
SOLID Blue and Black Plymouth Rocks I have Blue and Black Rocks YEAH!!! been wanting them since i got in chickens! I have a couple of roos I am going to try I don't have a SOLID roo but I have a Silver with one copy of silver and a Single barred blue. Soon to be set up.
Several other projects ALWAYS working. Lavender Copper Marans are Laying and are being tested now! .
Current as of March 2016
​
| | | |
| --- | --- | --- |
| Now | | |
| BBS Copper Marans Feathered Legs | MFL | Brown Rose Comb Leghorns |
| Blue and Reg Barred Rocks HERITAGE GSBR | White Breese | White Leghorn |
| | Isabelle Leghorns | Solid Blue and BlackPlymouth Rocks |
| Crested Cream Legbars | Bielefelders | |
| Lavender Copper Marans (Chicks Only) | BBS Plymouth Rocks | |
| Sapphires (cross of CCL Cockerel x White Leghorns) | Silver Penciled Plymouth Rocks | |
| Lavender Olive Eggers (Crosses of Dark Egg layers x Blue Egg Layers) | Blue Partridge Plymouth Rocks | |
| Silkies and Guinea | Exchequers (maybe Blue and Black) | |
| Blue Jubilee/Mottled Egn Orps PROJECT SELLING OUT | Crested Cream Legbar | |
| Jerry Foley's Silver Penciled Wyandotte Bantams | Exchequer and Blue Exchequer Leghorn | |
| | | |
​