I changed my plans for the house several times always growing the house larger! First I was going to go with the duck house 3x6 and lift it up on 3 ft legs and close it in. When I decided not to house the ducks and chickens together it opened up my possibilities with the hen house. I had decided on a 6x6 and scoured the Internet for ideas. I came across this framing kit and thought that may make the roof easier for me to do by myself.
The kit consist of brackets and a full material list, ah... that makes it a little easier! And I don't have to sweat out making angle cuts for the roof! It makes a 7x8 ft shed which is plenty big for my 10 hens.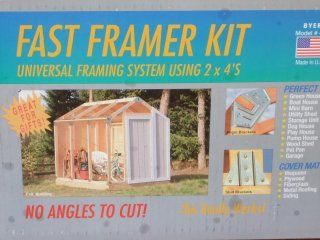 This kit can be found at many Internet sites, here are some links.
Northern Tool
or
Back Yard City
7' X 8' Structure Material List:
1 - Fast Framer Kit
15 - 8' 2 x 4's
2 - 10' 2 x 4's
4 - 12' 2 x 4's
4 - 8' 1 x 4's
2 - 16' pressure treated 2 x 4's
2# - 3 Nails (16D)
2# - 1 1/4 Deck Screws
9 - 4' x 8' Sheets of Sheathing Material
64 sq. ft. of roofing material
I read the instructions several times to make sure I was clear but I still made a few mistakes but nothing that I couldn't make up for and live with. All in all not bad but I am not sure I would use it again. I prefer standard framing for the walls but I did love using the brackets for the roof. I think the perfect situation would be a bracket system for just the roof trusses with no angle cuts needed!

​
​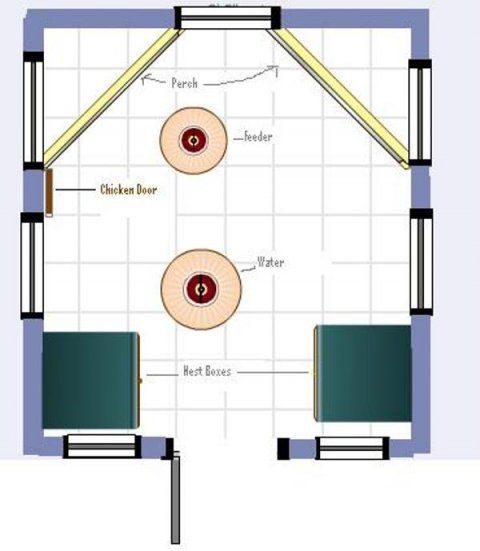 Here is my basic layout. Feeder and water are hung from chains so the height can be adjusted as bedding goes up or down.
Windows are home made and size was based off some discount window frames I found and will use.
Run and floor
on page 1
​
Roof on page 3
Framing and Siding on page 4
Finishing up on page 5


​