HOUSE OF JOY- PVC TRACTOR/ PEN
Well as previously stated, this had to be very lightweight and secure for daytime predators, mainly hawks and bald eagles. I had hoped to recycle an old iron canopy bedframe but couldn't figure out how to connect the pieces since I'm not a welder. I did however have some PVC tubing and an old chrome fold up laundry dryer. I went to Lowe's and bought 4 more lengths of PVC and lots of differnt size connectors since I didn't know how they would all connect. I also got PVC primer and all purpose adhesive to join everything with. Then I got chicken wire, hardware cloth and cable ties.
At 104F outside, I decided to dry run the connections and join as much as I could inside. I also could use our pool table to support things as I pieced it together since I was doing it by myself. I used my PVC pliers to cut all the PVC and drilled out the brads on the laundry dryer. I was using theon MPC as my example to go by for fitting pieces. I cemented both ends leaving the middle connection loose so I could get them out the door. Then I cut chicken and hardware wire & attached to each section with the cable ties, again leaving the middle unattached. At the ends, I overlapped the chicken wire and wove it together using the wrapping wire that came with the chicken wire. Play Pen for Chickens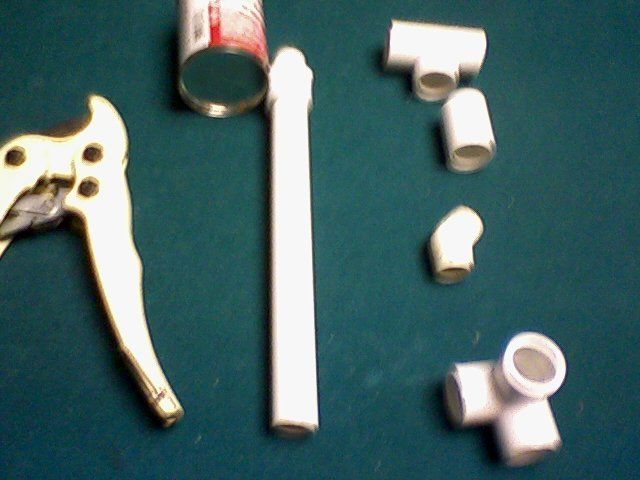 Everything was moved out to the carport. All the middle connections were made. The chrome pieces were connected for the door using the all purpose adhesive, Then U-hooks provided the hinge at the top to open it. Bungee cords secured it.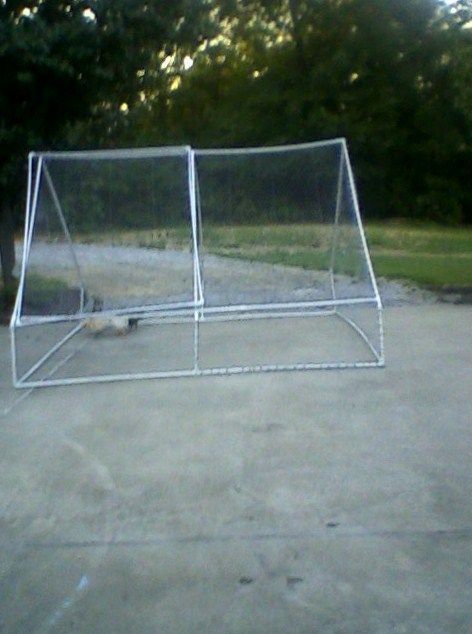 Now for the chicks!! A tarp was thrown over half of it and secured with metal shower curtain hooks for protection from rain and sun. Feed and water were hung. A roost and an interesting log to play on were placed. The hardware apron was secured with landscaping pins. Now we have some HAPPY chickens!!
Costs:
Poultry Netting 1" 48"x50' 29.98
Hardware Cloth 1/2" 36"x25' 34.88
PVC Tubing 1/2"X10'@3.20ea (5)
(5) free
PVC Connections 45degree elbow @.19 (5)
T @.19 (1)
triple elbow @ .19 (6)
X @.19 (1)
90 degree elbow @.19 (4) 3.23
U Bolts (2) free
Cable ties 4''x100 (6 @3.46+1 free) 20.76
8"x 20 (1 @2.07) 2.07
Chrome rods from laundry dryer free
Landscape Pins 4"x25 4.25
Tarp 8'x6" 4.96
Shower Curtain Hangers 1 set metal free
TOTAL 116.13
COOP + PEN 171.00