General Information
Breed Purpose

Dual Purpose
Comb

Rose
Broodiness

Frequent
Climate Tolerance

Cold
Egg Productivity

Medium
Egg Size

Large
Egg Color

Brown
Breed Temperament

Friendly, easily handled, calm, bears confinement well, quiet and docile
Breed Colors/Varieties

Golden laced, silver laced, colubian, buff, partrige, silver penciled, blue, and blue laced red
Breed Size

Large Fowl
APA/ABA Class

American
The Wyandotte aka American Sebright, were developed in the United states in the 1870's, in and around the New York area. The first color developed was the Silver Laced variety and they were originally called American Sebrights. The name was changed to Wyandotte (after the indigenous Wyandot people), when they were admitted into the APA in 1883. They were exported to Europe around the same time.
Wyandottes are a calm breed in general and have very nice temperaments. They are good with people and generally get along well in a mixed flock. They are decent foragers, though they do not tend to wander far and are not good flyers. They are extremely cold hardy. The hens are good layers of light brown eggs, good winter layers, will set, and are good mothers. The cockerels make a good table bird. Today they are an extremely popular dual purpose breed and very popular among small flock owners looking for a colorful winter layer.
They have a flat rose comb and bright red face. Today they come in many feather colors and patterns, with over thirty found in Europe, the beautiful Blue Laced Red and Silver Laced are probably the two most popular colors in general. They are very popular as exhibition birds. Many breeds have been used to produce the Wyandotte we know today, including Brahma, Cochin, Hamburg, and Plymouth Rocks. They are also found in bantam size.
It was removed from The Livestock Conservancy's Priority list in 2016 and is no longer considered endangered.
Wyandotte egg
Wyandotte chick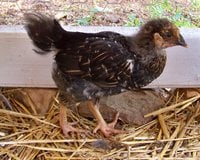 Wyandotte juvenile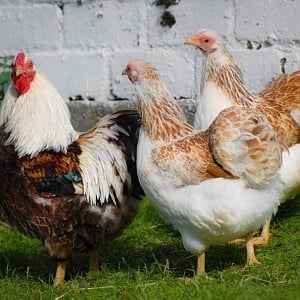 Wyandotte rooster and hens
For more info on Wyandottes and their owners' and breeders' experiences, see our breed discussion here:
https://www.backyardchickens.com/threads/chicken-breed-focus-wyandotte.1135563/