Aug 26, 2011
17,155
325
348
I was mucking around with personality tests (
http://www.gotoquiz.com/personality_quiz_1
) and it gave me this very untrue analysis: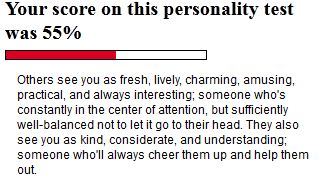 Lively and fresh: More likely people see me as old hat who's... er, I think she's up to
something
this week... *scratches chin*
Charming and amusing:

Nobody gets my jokes, I don't get other people's jokes and the last time I tried to be charming it ended in a cat fight.

The centre of attention: Now that's even more hilarious. Does "outside of circle" ring a bell to anyone?
Not letting it get to my head: I let things get to my head, because it's rare that something nice enough happens that would warrant me letting it get to my head.

Kind, considerate and understanding:
I barely understand what goes on in the heads of those close to me, let alone those of strangers!

Cheer up and help out: More like I'm the one who needs cheering up.

Did I ever tell you the story about when I tried to help out my friend with some work, and she ended up hitting me over the head with her chemistry book?

Moral of Story: NEVER trust these online tests. They don't work.

Last edited: