A few colleagues called us up three days ago and brought us a duckling that had been abandoned on the side of the road. Its been a few years since we've raised ducklings, so my partner and I have put together some questions to clarify any concerns we have about our new foster duckie. (We mostly seem to be concerned about her poops, because all other signs seem to be good.) Here's an outline of the past three days.
Feel free to skip it and refer to it, we'll list our questions at the bottom.
Day 1, it was apparent that she had just hatched within the past day or so. She still had her egg tooth, she didn't have much balance or strength in her legs, but she was alert and responsive. Because she wasn't using her legs much, and was so unbalanced, I wasn't sure if she had a slight case of splay leg or not, so just to be sure, I lined the bottom of her brooder with a rubber kitchen mat. (She isn't struggling with this anymore, however- but we kept the mat.) We noticed tiny bugs on her, so we very quickly and carefully washed her with some diluted dawn dish soap and rinsed her off. We made sure she was warm and dried her quickly with q-tips to help her while she preened herself. That got rid of the bugs, so we aren't too worried about that, but thought we should include it. The first day, she only ate and drank a little bit. We fed her our hen's organic, non-medicated feed, crushed very small so that it resembled starter crumbles. We had to teach her to eat and to drink, but she got the hang of it very well. She pooped once or twice, and it was a single green and watery poop. The duckie was very stressed this first night, and would wake up throughout the night and peep and hop for one of us to come and pick her up. Some time in the night, my partner gave her a gardening glove filled with cotton balls. In the morning, I did some research and gave her a mirror. This has helped immensely, and she slept completely through the night on day 2.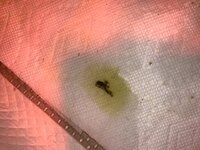 Day 2, she ate more, but her poop continued to be the watery green color. We decided to give her the little individual florets of some heads of broccoli, no bigger than the crumble feed, that were left over from a bag that we had microwaved. We put this in her water to encourage her to eat and drink, and she loved it. Her poop continued to come out green and watery, so we decided the next day to leave out the veggies and see if her poop would change color and consistency, to make sure that she didn't have anything wrong with her gut. Duckie was very active and definitely wasn't lethargic. She was full of energy, and uses her legs a whole lot and her posture looks good, so we aren't worried about splay leg. She wasn't stressed about being left alone at night, and went right to sleep.
Day 3, she's very active, and very responsive. This duck is FAST. In the morning, her stool was still green and watery, but cleared up and appeared to be normal in color and consistency by the end of the day. What we did was give her some crushed dried mealworms, and starter feed. She's been eating a whole lot and is very responsive and active. We would still like to know why her poop was green and watery, however- and if it is abnormal. My thought is the stress from being abandoned/transferred here, but we'd still like to ask the community here. She still seems to get upset when we leave her alone, but this can't be avoided. She isn't stressing as much as she was on day 1, but my partner is still worried.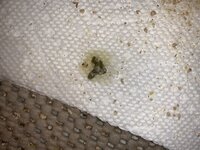 Here are our main concerns:
1) How do we know when green poop is a warning sign?
2) What veggies should we avoid feeding her to keep her poop from turning green during the next few days while we monitor her?
3) How do we keep a duck from stressing while she is alone when we aren't able to attend to her?
Thank you guys so much, please take care of yourselves!
Last edited: