Aug 30, 2017
3,060
5,310
422
My Coop
If you make a nest box ( I use a 36" wide one for 8 hens ) with a lip on top and a roost bar on top of that and put some legs on it to raise it up about a foot. No loss of floor space and all in one and movable if you don't like the current location. You could make the nest box 48" x 24" and ~14-16" high then the top of the nest box would be 26" - 28" high go up 8"-10" for the roost bar and your done.
This is my new poop table.
In the shed with the roost installed.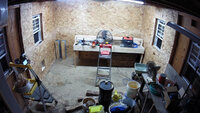 JT