Sep 2, 2018
8,498
34,995
1,367
My Coop
Hi everybody,
have some spare time today, so after being a BYC member for three months, it is time to introduce myself.
I don't have any chickens - yet, i have five Indian Runner ducks. My duck-adventure started in late June (2018) at the local farm-store here in Charleston where my wife discovered six fluffy yellow ducklings and started to enthuse about duck-eggs. Next thing i know, i was in our yard assembling a chicken-cube with run...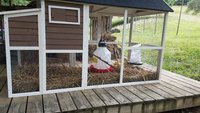 The little duckies grew, were fun to watch and everyone was happy until the second last weekend in August when our little one died from hypothermia during a sudden cold snap. Just two weeks later on the Labor Day weekend one of the remaining five ducks
suddenly went lame
- so i joined BYC to seek help and connected to a lot of nice and helpful people.
Thank you very much all again for helping me and »Limpy«!
He still is limping around but so far he is doing fine. This is the whole gang yesterday out in the first snow: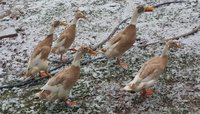 From left to right: Limpy, Katharina (front), Curiosity, Donald and NoName Duck.
Happy to be here, already met nice people and here to stay!