Hi all! In exchange for some of my spring ducklings I'm getting use of an incubator for as long as I'd like and I'm wanting to rebuild my flock as most of my layers are pushing eleven years old now. Im just trying to make some educated guesses so I can make some pairings that will produce some outcomes I'd like to see,like a few silkie feathered birds, some good layers and the rest just fun to look at and good sized(extra roos will have to go to the freezer).I'll add pictures of everyone with their names to help sort. I'm hoping that some of you that enjoy genetics and crossbreeding can fix any mistakes I've made and fill in the blanks!
The potential mamas: I have 2 girls under 3 that lay very well that are some sort of smooth feathered silkie mix. Cranberry is sized like a large bantam but is a great layer of big brown eggs,she's all white with dark skin, 5 toes, a single comb, very small crest and had feathered legs as a chick but they dissapeared as she got older.
Ginger is the same as Cranberry except she's partridge? type coloring with a rosecomb? And her crest is a bit bigger(I think cause she has the smaller comb)
Next I have Strawberry, a red sex link who lays very well.
Then 2 of the oldest birds I'd like to try and get a few chicks from just because they've been my favorites. Snowbird, a light brahma who still lays fairly well and has the size and hardiness I like.
Gypsy, an EE. She's about 11 now but back in the day she laid almost every day and was a beautiful, silvery blue with some gold. She still lays a couple blue eggs every once in awhile.(She's the bird in my profile pic)
The roos: All these are silkie mixes. All have 5 toes, started with feathered legs though they no longer have them, small crests and are really good size. Peanut is white with some yellow/blonde on his hackles and saddle and tail, and gold/light red through his wings, single comb, and yellow legs.
Walnut is the same color as Peanut but no gold/red, just a light yellow/blonde and an awesome walnut? comb.
Then there's Red, he's partridge? with some black spangles on his chest, yellow skin, single comb.
So that's the choices and here's my guesses. PLEASE correct me where I get it wrong!
*Either of the white roos with Cranberry will give me a small chance for silkie feathered chicks and all the offspring no matter the feather type will be white or mostly white, standard size?, have at least a small crest,5 toes, ?comb, and possibly feathered legs? Any females will have dark skin and males light colored or yellow skin?
*Any of the whites with Ginger will give me the same traits but different feather coloring?
*Walnut with Snowbird⁷will be large size, ?comb, yellow skin, feathered legs and ?color
*Walnut with Strawberry I have no idea except good size, possibly lose the single comb, and possibly good layers?
*Red with Strawberry will give me big red? birds, with single combs and yellow skin? Possibly good layers
*Red and Ginger would be a small chance for silkie feathered, partridge type coloring, ?Comb, at least a small crest,5 toes, maybe feathered legs
*I wouldn't know who to put Gypsy with. I love the silvery blue but not sure if it would pass on to any chicks and if any chicks would lay blue eggs like her or if it would revert to brown.
My plan is to separate them into groups, wait a week, then all the eggs after that will be what I save for the incubator.Then possibly change one or two around a month or so later and do it again for a second batch.
**Mr. Pickles is a bantam and is in the pic for size comparison to those silkie mix hens. He will be confined to the main coop with the older girls so he isn't a potential papa for these few hens I listed.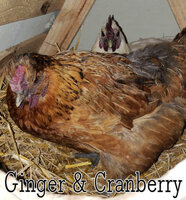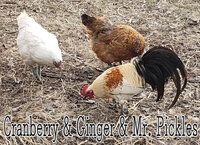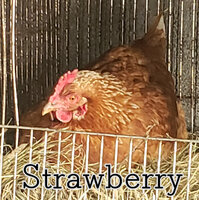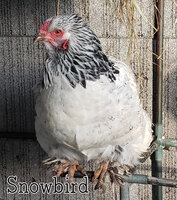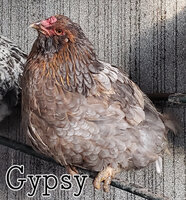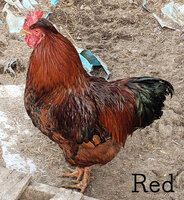 Thank you!