Cows, Chooks & Impys - OH MY!
13 Years
Nov 9, 2007
28,906
369
661
My baby Kane has grown up. He's 17 months old now, right at 100 lbs. That may be large for a GSD, but he does take after the east german (sire's) side of his lineage; all large working dogs. Kane is not overweight under all his fur, he's just big. Ziggy, Kane's sire, has sired some pretty large pups, though Kane may be the largest. Kane at 8 weeks (16 lbs):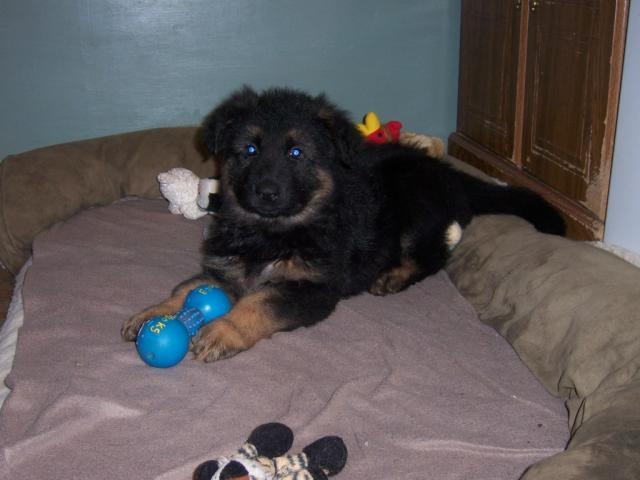 If I remember correctly the breeder told me that Kane's sire Ziggy (Ode) weighed 110 lbs. in his prime:
http://www.pedigreedatabase.com/german_shepherd_dog/dog.html?id=610284
Kane looks ALOT like Ziggy, but even more so like the grandsire Xuck:
http://www.pedigreedatabase.com/german_shepherd_dog/dog.html?id=405593
We don't know how much Xuck weighed, but he was obviously a very large dog.
Kane is a sweetheart. Happy-go-lucky dog, without the usual GSD standoffish-ness, loves everybody so long as you don't harm his mama. Kane gets daily exercise, aerobic too, throughout the day. But still, I worry.
When Kane comes in from exercise or play, he sounds like a freight train. He breathes so hard! It takes him about half an hour to cool off and for his breathing to return to normal. Also, he overheats easily. In the evenings he rarely lays close to us in the living room (carpet) choosing to lay on the kitchen tile floor instead. When they have to be crated, Kane has his very own tower fan to keep him cool. We keep the house A/C set on 68, but still Kane gets hot at times.
I'm worried about his heart. I don't want him to drop dead one day, way too young. Our vet is excellent, but an old-fashioned vet. She doesn't have x-ray equipment or an EKG machine. Still no vet I'd rather have for her wisdom, knowledge, and compassion. She says Kane's heart and lungs sound fine by stethoscope.
I haven't discussed it with the vet yet, but I want to take Kane to the city to be seen by the vet we took Charlie Girl to for x-rays when she had cancer. Not sure how to phrase it, but I want him to have a heart check-up to be sure.
DH says I worry too much?