Apr 24, 2015
2,442
9,939
537
Today, we lost a beautiful Rhode Island Red hen simply named "Big Red" who was one of the sweetest birds I've ever met. She was a good girl, who had the personality of a loyal puppy dog and was once the head of her flock. She's been through illness before, but today it seems heart failure finally took her.
So in her honor, I want to open a memorial thread that's just a simple place to share photos and stories of the chickens, geese, ducks, peafowl, and all those beautiful poultry we've loved and lost. Post a picture, tell your favorite memory, and just remember the good times you've had with those feathered friends.
In homestead spirit, I light a lantern for
Big Red
. Rest in peace silly bird.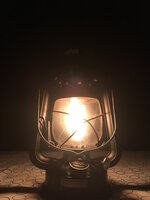 ​