Opa-wan Chickenobi
12 Years
May 11, 2008
9,573
516
336
Michigan Chickenstock 2012
June 23 10am-3pm
Delta Mills Park
6841 Old River Trail
Lansing, MI 48917
Each year our event has grown in size and I expect this year will be no exception. I will be updating this thread as more information becomes available. ,
DIRECTIONS:
http://www.bing.com/maps/?FORM=Z9LH...jYuNTIyMjQzNDYyMjc5OSU3ZS0xMTIuODY0MDUxODE4NQ==
Hillbilly Hen
has graciously agreed to maintain the attendence thread again this year. While it is not necessary to sign up in advance, it is nice to have an idea of how many will be attending. Plus knowing that you will be coming may be the reason that someone else attends.
SIGN UP
:
https://www.backyardchickens.com/t/616345/michigan-chickenstock-2012-attendees-sign-up-here
O
ur
pot luck lunch has always been awe inspiring so start thinking about what you'd like to bring as a dish to pass.
Raz
will be helping us keep track of all of the wonderful food
FOOD LIST:
https://www.backyardchickens.com/forum/viewtopic.php?pid=8181296#p8181296
Theron
is maintain our buy/sell/trade list as well as the list for the raffle table of donated items. Be sure to check it out.
BUY/SELL/TRADEhttps://www.backyardchickens.com/t/616859/michigan-chickenstock-2012-buy-sell-trade#post_8183205
Silly Chicken
has once again designed us a wonderful poster. Print it out to place in your local feed store and print one for yourself so you don't miss a great time.
.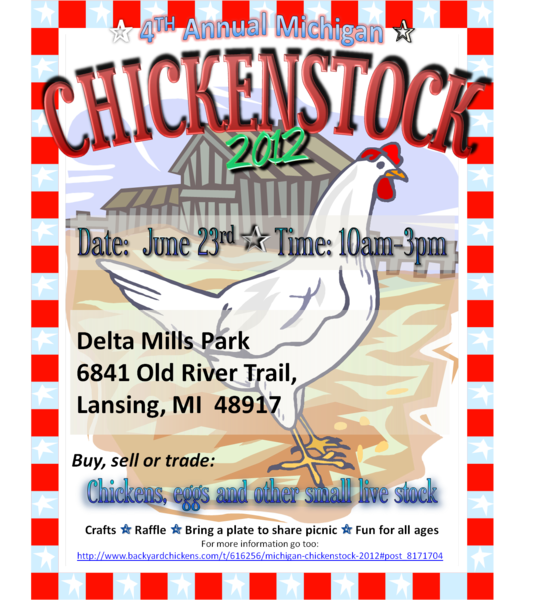 Last edited: