I was hoping to get some feedback on my birds' nutrition to see if need to make any adjustments.
My oldest seven consist of 4 EEs and 3 Welsummers and they'll be 9 months old soon. I know neither are large or meaty birds but some of them feel very bony to me and I want to be sure I'm not overlooking something.
They have constant access to their feed during the day- I give them a layer feed from Blue Seal and mix it with a 22% mixed flock feed that a local feed mill creates. Instead of giving them a premade scratch, I give them a blend of treats in the morning. I mix together chopped sunflower seeds, cracked corn, whole oats (with hulls), and mealworms. I've never seen any evidence of worms but just in case I've started to mix in a little garlic and oregano too- I don't have pumpkin seeds yet. All total it equals about 1/2-3/4 cup between the seven of them (too much? too little?).
They don't have access to grass most of the time so I also try to give them kale, romaine or cabbage regularly. I don't create much in table scraps, so it's rare they get anything in that department aside from their own cooked eggs if they're cracked.
They're laying very well- most days I get 5 eggs, yesterday I had 7/7. Their combs aren't the brightest red but they look pretty normal for their breed (I think). I've been checking a lot for parasites and have never seen anything.
They all seem healthy, they just feel underweight and I don't know anyone else in the area with these breeds to compare them. They're all pretty chill and I don't think anyone is being bullied out of resources.
I know it's hard to tell from pictures, but I've included a few. Most of my birds have that little overlapping cowlick thing on their chest that you can see on the one EE- does that indicate anything?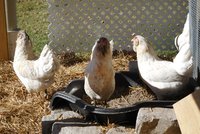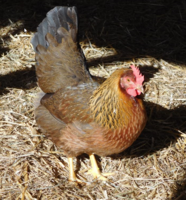 I recently added six chicks to my flock so I'd like to get this figured out before putting them in the run.