Jul 29, 2008
3,923
18
224
I placed a order for 5 blue swedish ducks 4 females and 1 male. I have been calling everyday Ideal has been open to see if they got my payment. They called me today to say they got my payment and my shipment would be sent out on monday!! I am so excited!!! I have the brooder ready...got the feed! Now the wait!!!!!!!!!!! It's gonna be so hard.
These will be my 1st EVER ducks. I chose the breed because I have heard so much good things about them!!!
I have some Q's if anyone can help me out!
1. Do ducklings Imprint on you like Goslings do?
2. I got their feed at the
TSC
I didn't know what kind to get so I asked the guy who runs its. He usally helps me out with everything I need. He gave me a Starter grower for game birds with a duck and 2 other types of birds on it. Is this ok food?
3. I didnt wanna use pine shavings for my ducks so I am gonna use Puppy training pads. Is this ok?
4. How old are they when they begin to feather? How soon can I let them go outside?
5. Do they grow faster then chicks and if so how much so?
6.When should I allow them to swim? I was told once they began to feather in.
7. I plan on having them caged (Due to evil killing dogs around) How big should their pen be for 5 ducks.
8. Is 1 drake ok for 4 girls?
9. Can I use a kiddie plastic swimming pool for them in their run?
10. Are they good egg layers?
11. Do they go broody?
Ok I will stop there if I think of more I will post them..LOL
Picture of brooder: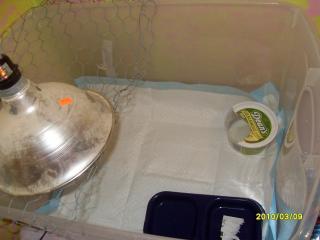 Thanks ahead of time for all who can help me!
EDITED: FOR PIC OF BROODER AND TO ADD MY Q'S..LOL
Last edited: