Hello everyone, Recently I made some new additions to my flock. Any help identifying the breed and sex will be appreciated! Thanks in advance!
1. Bantam pullet, around 4 months old. She is a great forager and a very active bird. She has a very Sebright-ish look to her. What breed is she?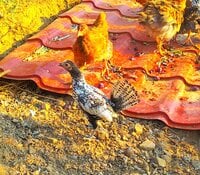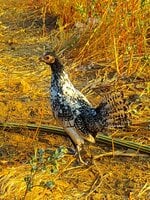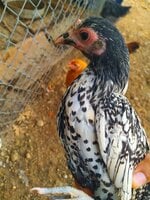 2. A Polish chicken. I think its a pullet. What do you think?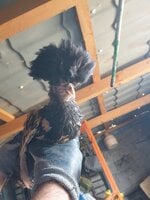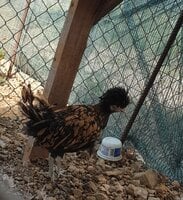 3. Around 2 years old hen. I purchased it of a farm that had Cemani stock but shes not a pure bred Cemani. Altough she is black feathered, has black legs, beak and wattles, her comb has a little red in it and her skin isnt dark as Cemani's skin is. What do you think? She is a great layer, btw. She layed 2 eggs during the 4 hours trip from the farm to home, even though she is in moulting mode as you can see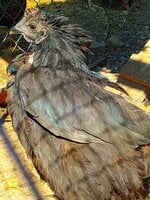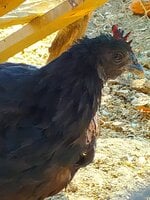 4. 4 months old pullet.Quite large sized. Her coloration on neck reminds of Wyandotte's color pattern. What breed do you think she is?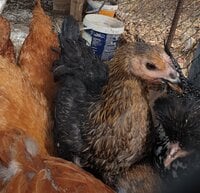 5. Around 8 months old Sebright hen. The one thing thats got me wondering are the tail feathers that arent the Sebright coloration as the rest of the body. Could she be a mix? Nevertheless, a great hen, very calm, friendly and docile. I'd also like to know if her size is usual for Sebright hens or its more on the heavier scale?
(Pics 3-4 Size comparison next to 4 months old Polish pullet and 2 years old Cemani mix hen)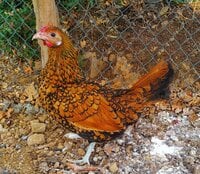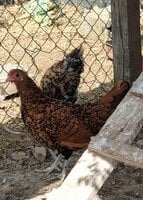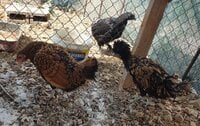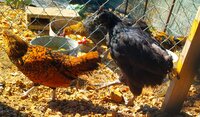 6. Polish 4 months old. Is it a hen or a cockerel?