Égalité
Staff member
Premium member
8 Years
Jun 28, 2011
39,107
23,964
1,252
Chickens Are Molting - We Want Your Pics!​
It's that time of year again where our birds start their metamorphosis into... well, okay, they don't turn into anything, but it sure is interesting to see them go through their molting process and leaving feathers all over the place!
For more information on your flock's annual molt, see here: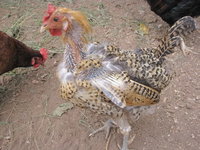 The contest is simple: Post pictures of your birds in the worst part of their molt. Once we're past the molting season our esteemed panel of judges will pick a loser... er... winner!

We will have two categories:
"Frizzle" and "All Other Breeds" (on account of Frizzles having some pretty bad molting genes and winning this contest for a few years).
Please state which category you are entering when posting your pics!
Prizes:
There will be two winners per category, the first place winners will receive a $50 gift certificate to the
BYC Store
and the second place winners will each receive a free 6 month Premium Feather Membership for themselves or a friend.
The rules are simple too:
Must be your chicken
Must be a picture taken THIS YEAR, so probably within the last few weeks and over the next couple months (depending on your climate, birds, etc.)
Must say which category you're entering in
Good luck to you and your ugly... er.. molting chickens!

Here is the winner of our previous contest, entered by missesball

Last edited: