🪶❄️🪶
BYC Staff
Project Manager
Premium Feather Member
12 Years
Mar 21, 2011
61,224
195,884
1,842
Winners Announced HERE!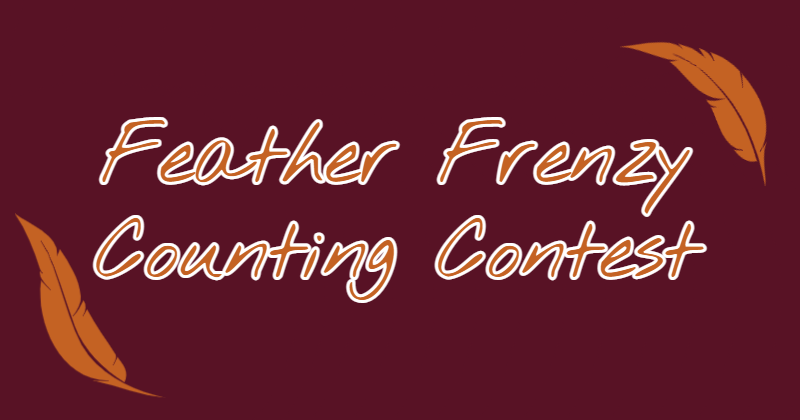 This contest is brought to you by our BYC Sponsors
(click to view & support them)
Welcome to the Official BYC Mini-Contest
Feather Frenzy Counting Contest
​
It's easy to enter, just guess how many feathers are shown below and reply to this thread with your guess.
​
Rules:
All entries must be submitted as a reply to this thread.
Check this Google spreadsheet, and/or search this thread to see if your guesses have been chosen already.
A total of five guesses per member, one guess per post, please. (For extra hints, click HERE! )
ONE guess per post - NO EDITS.
Whole number guesses only, please.
If you want to lock in a specific number, post it before anybody else.
To change your guess or make a new guess, post a new message, do NOT edit or delete your original guess. All edited posts will be disqualified.
Open to all BYC members.
All BYC rules apply: Terms of Service (Rules)
The contest ends as soon as someone picks the winning number or on December 14th at 11:59 PM, whatever comes first.
This Google
spreadsheet
will be updated as often as possible. Please check it *and* search this thread before entering your guesses.
Prizes
There will be 5 individual winners and each will receive a copy of the beautiful BYC 2021 Calendar!
​
---
​Check out the rest of the contests here:
Official BYC Mini-Contest Series - Win one of Fifty (50) BYC 2021 Calendars!

If you would like to purchase a beautiful BYC 2021 Calendar, see this thread:

2021 Calendars are here! Free US Shipping!