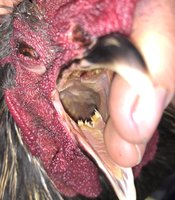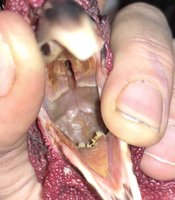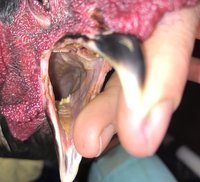 A few days ago I adopted a rooster from the local animal shelter. He has been in quarantine in a separate area.
Upon inspecting him, I noticed he was gurgling and gasping constantly. The inside of his mouth was riddled with big dry hard lumps of mucus. I've had hundreds of chickens in my life and never have seen such a severe affliction of mucus.
I gently cleaned his mouth and throat with an iodine tincture, have been giving him antiobiotics (duramycin 72-200) and Tylan 50 + VetRx orally. He hasn't improved at all, and the crusty mucus returns inside his mouth within hours.
I've swabbed his throat and don't see worms, though in his nasal cavities I regularly see tiny black "strings" mixed into his mucus.
Any guidance on what is afflicting him??