I have two design ideas. I tried to edit an image in paint to show the ideas - I know, it looks like a kindergartener did it... the first option is smaller and covered, the second larger and uncovered.
The first is a 5x20 ft covered run that extends off the coop - two fruit trees will be outside the run, just on the other side of the fence (welded wire)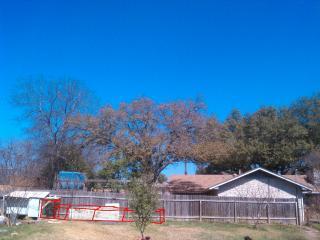 second option is to start the run about 6ft from the coop, use the existing privacy fences on two sides and run the fence all the way to the 4ft chain link fence that separates our front/back yards. Inside would be 4 small trees (3 fruit/1 Rosebud) that would offer shade, day perch, and fallen fruit treats. The con would be that it is uncovered and possibly the 4 ft chain link fence being to low?
Thanks in advance,
Victoria