Jul 14, 2009
5,014
91
268
Something very sad happened last night.. I lost my sweet little Hodgins(gosling). After chekcing her over i decided that there must have been something wrong, "medically", with her. She was 10 days old and still hadn't lost her egg tooth and was still quite small considering her age. I was devistated this morning when i found her but decided that i needed to get a new baby soon before the ducklings decided they didn't like geese....
I stopped by a local feed store this morning to pick up 1 new gosling. when we got there i saw the goslings and picked one little African baby out but wanted to see what else they had.... banties, iowa blues, pheasents, ducklings, big filthy feather-picked goslings, chicks.... WTH???
The poor babies! i handed the little guy off to my sister who was with me and started looking over all 8 of these huge goslings that were sitting in this filthy little tub that was WAY too small. they also had a long red chick feeder for thier food which just doesn't work for them once they get over a certain size. They must have all been around 1+ month old.... I was just so disgusted.


I checked them all over and picked out the worst 2 babies, put them in a box and took them to the front to ask someone about them. I showed them to her and she carelessly said "oh, the little picked babies"

and I asked "could you lower the price on them so i can get some out of there? I just built a bigger brooder so they will have more room and wont be getting picked at"..... her, "oh well let me check and see if we can do anything............ I can make them an even $10, that's all though." I just though, "what an ass, They were only $10.99 to begin with" but I told her "That's Fine and paid for them".
A different girl rung me up and while she was doing so actually told me that they have to give them baths when they get big like that but they hate it. I just know i was looking at her like she was a moron. The poor babies were caked with crap and sawdust from their bedding, their bills were all crusty and they were flat out filthy. One of them was actually stained pink from blood running down her neck, her neck still had scabs all over it.
I ended up coming home with 1 male African & 1 female White Chinese. they were very sweet in the car and she even stretched out across my coat and fell asleep, happy to have room to do so i am sure. They're resting now in a clean pen with hay to chew, clean water and greens to eat. They already seem happier, but i know they'll feel better after they start growing those feathers back in.
Here they are: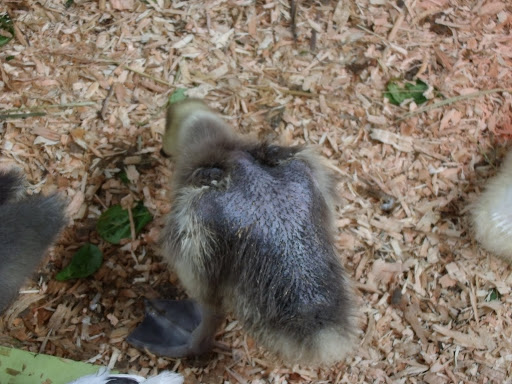 Last edited: