Well- I have Chickens now!!!! I hatched out 2 Millie Fluer D'Unccles, & 10 LF Polish chicks (5 Tolbunt, 5 GL/Tolbunt cross from a "differant" line of Tolbunt & Gold Lace lines than we have) There was a 6th Tolbunt chick that failed to thrive. My birds can be found on the Tolbunt project page (well the pure Tolbunts can so far anyway)
I'm also here as a voice for my mom who A)is internet retarded & B) hasn't gotten internet at home.
My name is Courtney, I live in Lansing, MI and am a pet groomer at a vet clinic..... so pets come home too.... we have:
3 (4) dogs- Jesse my Boxer, Rogue my Doberman who is in training for Schutzhund, and little Deeter- my son's Doxie mix (3/4 Doxie, 1/4 beagle)- he's the cutest dog ever. Plus my BF has a Shepherd mix name Darcy who I guess I should count in the dog group....
3 cats- 2 Black & white Manx mixes- Howie & Stripe her kitten (Howie came to us preggers),& Wasabi- the Siamese mix (also a stray)
plus 2 hermit crabs, 1 Cockatiel (Angel- he'll tell you how pretty he is....) & some fish
I have 1 son (Gideon- 14 yrs old) & my BF Brent..... so it's just the 3 of us people with too many pets. We are going to be relocating to Battle Creek area soon..... we have picked a house in the country, but we'll see how it works out buying it

I HAVE gotten those Tolbunt Polish I drool over every time I see them, and a couple Mille Fleur D'Unccles hatched out
need a egg layer room too after the barn is ready........ I like EE's & Speckled Sussex .......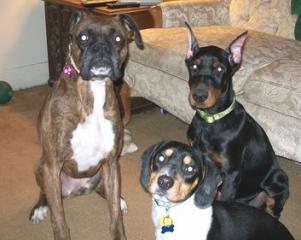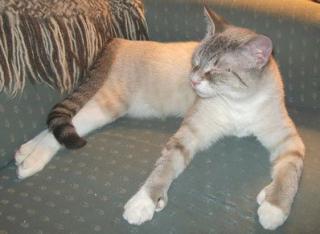 Check the other pages for chicken photos!!!