GENETICS

(Egg Color, Feathering, Inbreeding, etc)
Kippenjungle's Chicken Calculator
is a handy tool for anyone wanting to learn how genes interact with each other!
Chicken Quest Gene CALCULATOR CLICK HERE
Poultry Genetics for Exhibition Breeders CLICK HERE
Poultry Genetics For Small and Backyard Flocks CLICK HERE
Chicken Genes of Common Interest & Their Symbol Abbreviations CLICK HERE
Image by... gimmie birdies
IN-BREEDING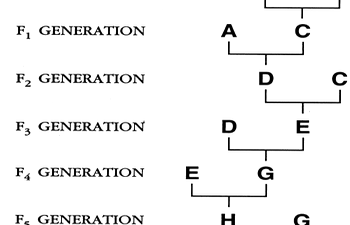 click on image to open
"I have a question about breeding. I know with many animals you shouldn't inbreed, is it the same with chickens? Just wondering if I can keep a rooster from the same hatch or if I should look for a different one?"
Once you have a "strain", in order to keep the line pure, you have to breed relatives. Close "line breeding" uses the best chicks to breed back daughter to father, son to mother, then brother to sister, and so on. If all the chicks have desirable traits, you can expand the breeding pool among cousins. This works best with a pure, established line of chickens. If you're just mating your best rooster to a hen that isn't related, the results can be good... or bad. Many times the chicks will retain the desirable traits of both parents, but often times less desired genes will rear their ugly heads. It can take years of line breeding to bring out the desirable traits, diminish the undesirable traits, and retain the desirable traits in the majority of the offspring. That's just a condensed version, as there is a lot of fine details that need to be included to make it work right. Then again... there's only one way to find out. Go for it! LOL!!!

*If you are interested in breeding show quality birds then Dr Clive Carefoot's Creative Poultry Breeding and Grant Brereton's 21st Century Poultry Breeding are both essential reading and reference material.
POULTRY MUTATIONS CLICK HERE
Study on NNs better meat growth and immune system CLICK HERE FOR STUDY
It is apparent that the homozygous naked neck (NaNa) broiler chicks had significantly heavier marketing body weight by about 8.1% compared to normally feathered sibs. Similar trend, but not statistically significant, was observed in heterozygous naked neck (Nana).

ID homozygous NN CLICK HERE SEE NN TRAITS SECTION
MARANS GENETICS CLICK HERE
SEX-LINKS INFO
BYC Sex Link Thread CLICK HERE full of info!
The MAKING of SEX LINKS CLICK HERE & HERE
Isa Brown x Cream Legbar post #1647
*NOTE*: Silkie rooster over purebred hens will usually produce sexlinks. Females will have dark skin, and the males will have light skin.
COLORS & FEATHERING


BASIC CHICKEN COLOR GENETICS from BYC CLICK HERE
Chicken Genetics Made (almost) Simple - Overview of genetics and their effect on coloring. Genetics of Chicken Color CLICK HERE
Basics of Genetics Kippenjungle CLICK HERE
Blue Genes? Chicken Genetics Made (almost) Simple CLICK HERE
FRIZZLE GENE post #146841 GOOD READS CLICK HERE EGG COLOR EARS AND EARLOBES CLICK HERE ALL ABOUT EGGS Pink, Plum, Purple, and Gray Eggs CLICK HERE INHERITANCE OF EGG COLOUR IN MARANS CLICK HERE Benny's green egg color genetics eggsplanation CLICK HERE

Scratch Cradle

links FULL SITE CLICK HERE
GMS1: Genetics of Egg Color GMS2: Breeding for Blue Eggs GMS3: Breeding for Other Egg Colors GMS4: Incomplete Dominance of Blue Feathering GMS5: Chicken Chromosomes GMS6: Sex-Linkage GMS7: Plumage Pigments GMS8: Breeding for Two Traits GMS9: Autosexing Recipe GMS10: Skin and Shank Color GMS11: Breeding for Type GMS12: Inbreeding Coefficient GMS Supplement #1: Recessive White GMS Supplement #2: Skin Color Punnett Squares and Test Crossing GMS Supplement #3: Selecting for Head Shape
click on image to open
FOR MORE Poultry INFORMATION AND NOTES PLEASE CLICK HERE for
Complete Guide to Incubation, Poultry Raising, Care and much more!