2010.....So the construction on our new aviary started on August 21 2010 with the first digging of the "pond".... It continued on Friday August 27th and 28th as we decided to scratch what we had and start over....Our pen originally started out as a 50x100 with a 25x40 pond that would have a 10x10 island in the middle. Since then it has grown to a 125x75 pen with a pond that is about 45x50 with a 25x25 canal connecting it to a 30x40 pond. Yeah our pen is going to be half water. On Wednesday Sept 1st the trench digger came out to put in the drain pipe and the water line. A 6 inch pipe was put in to constantly allowing water to follow into and out of the pond. The water will go through this pipe and follow into our 1 acre pond.
On Saturday Sept 4th the concrete arrived! After 4 truck loads of concrete and 7 of my dad's friends to help the concrete for the whole pond was in place!! After 24hours the filling began!! That Saturday we also started planting lots of tall grasses around the pond and put out another bag of grass seed! Almost 48 hours later the pond was still not full.... It took more that 72 hours to get the pond at the level we wanted it! The drain pipe has an elbow on it with another pipe that comes up and the cutoff is level to where we want the pond level to be so that the water will flow into it and out.
My uncle brought out his tractor and auger to dig the 50+ holes for the poles. We used 6x6 and 4x4 poles from 6ft out of the ground up to 14ft. After breaking the auger on Wednesday…. My dad and one of his friends went around and dug the holes out some and filled them with water. This would help to soften the ground some for when my uncle came back out on Saturday September 18th. After almost getting all of the holes dug for the poles and the trees… the Auger Broke again!! You have to Love that Hard Alabama Clay!! By Sunday afternoon all of the poles were in along with 5 Crape Myrtle, 3 Oak Trees and 3 Tulip Popular Trees.. Also the rest of the tall grasses where in and 4 Pallets of sod!
Friday September 24th… 5 loads of dirt were delivered and the bobcat came back out! Needless to say that our land is no where near level would be an understatement! We wanted the ground to be totally level in the pen so this was out attempt. We found out it would take at least one more truck load but it was work that had to be done after the wire was up.. Manually with no bobcat....... 2 more pallets of sod
Saturday September 25th.. Rain and football delay.. Something about SEC football just puts everything to a stand still in the south! So Sunday it was 400ft of wire went up! It only took 7lbs of nails and 60lbs of ground nails! We still have to put the smaller mesh in to keep the babies in.
We can see the finish line though!
We are taking a short break from building to go to a concert and the Zoo but have a goal to finish by Saturday Oct 9th or Sunday Oct 10th!
Wednesday Oct 6th.. Gate building and putting the holding wire for the net up
Saturday Oct 9th.. The net is raised and attached and we will be ready for the Birds!!!
Saturday Oct 16th… Road trip!! We drove 3.5 hours to pick up what ended up being 8 pairs of the birds and then 2 drakes to make even pairs. Then the breeder that was local brought over 10 more pair plus my Bufflehead hens.
October 22 via delta my Bufflehead Drakes and one pair of breeder Barrows Goldeye arrived!
I am still waiting on 2 pair of breeder Ruddy Ducks, some bahama pintails, silver wood ducks and American Widgeons. I will also be finding a few more pair of the Barrows is possible!
Once this is said and done with this year we will have about 130 birds in our avairy consisting of Wood Ducks (regular, apricot and silver), Mandarins (Regular and White), Ring teal, Greenwing Teal, Silver teal, Cape Teal, Marbled Teal, Ruddy Ducks, NA Pintails, Bahama Pintails (Regular and Silver), Canvasbaks, American Widgeons, Buffleheads, Barrows Goldeneye and Hooded Mergansers. And 1 pair of Meller Ducks!
My Wish List: Hottent Teal, Baikal Teal, Sharp Wing Teal, and Ringneck Ducks!
In the beginning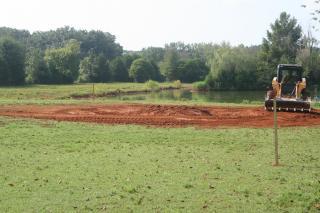 Before we put the poles and sod up. We had the pen roped off to see how big it was going to be afterwards
Poles and Sod in the ground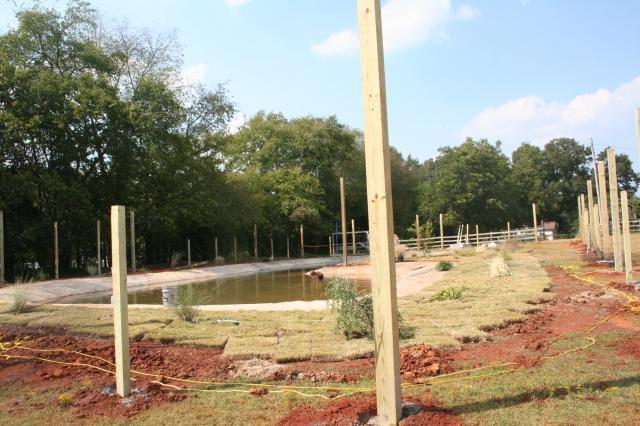 A view from the back of our land....
The webbing is up for the net.....
the net is up.. not tied down but up....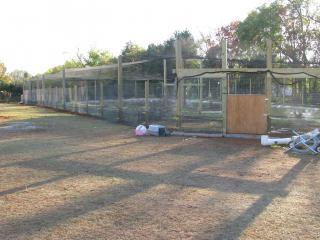 My Birds in their New Avairy!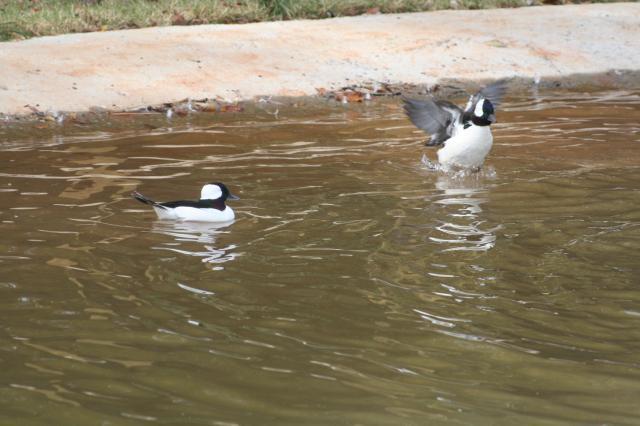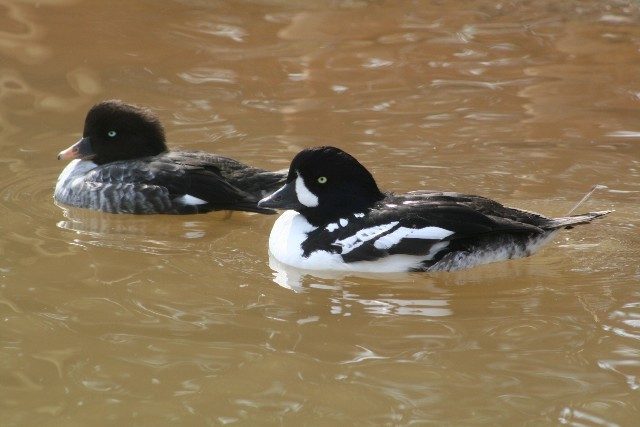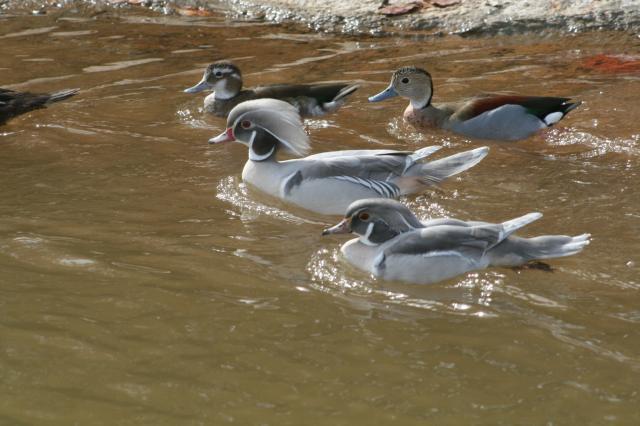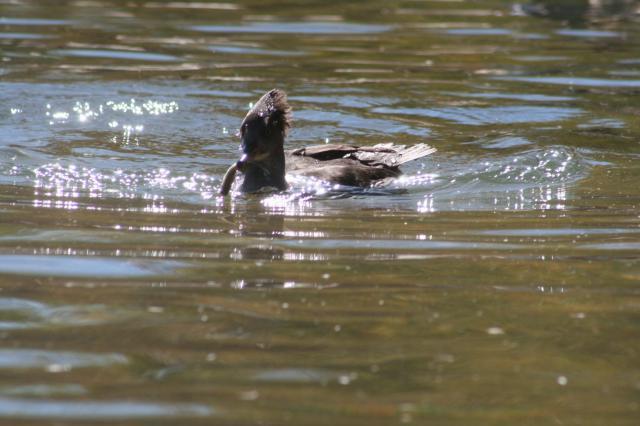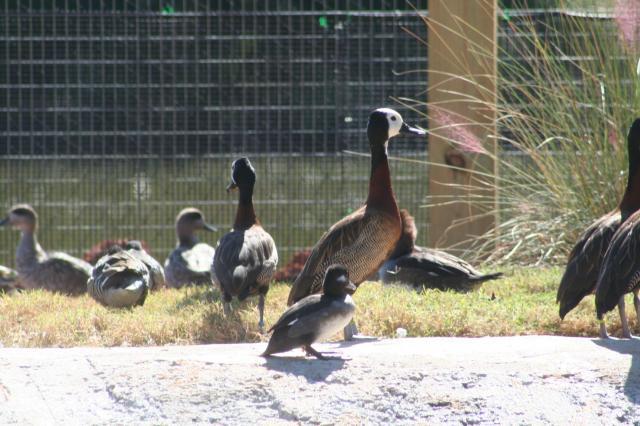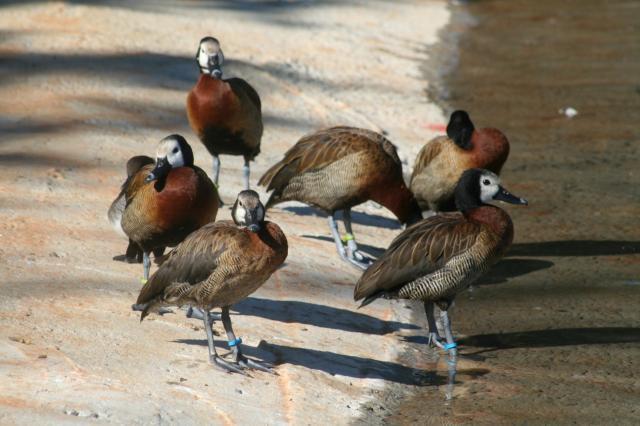 My Birds in their old pen. This was originally used to raise mallards (100+ a year) but last year at a local flea market I found 3 Mandarins and well it just got out of hand from there so their new pen is under construction. The White Mandarins and Marbled teal were added in 2010 and I have a pair of Ruddy Ducks but they like to hide under the brooder in the water.
This is the brooder in the pen and underneath it you would find my Ruddies. This brooder worked great this year because we could catch the mother and the babies and put them in there together. We only had 5 Mandarins and 1 Wood duck make it this year out of what we had hatch 8 Mandarins, 8 woodies and 3 ring teal. The Woodies all escaped but 2 from the big pen before we caught them and the ring teal had an unfortunate death due to the excessive heat. We had temperatures on the 90+ with index of over 100 for weeks. The water in this pen actually flows out then end through out Turkey pen where another brooder box is located and down through the property into a pond. I believe that we are going to concrete this pond and maybe make it just a bit smaller and use this as one of the holding pens or maybe fill it allin for a turkey pen! There is lots we can do with it with little work!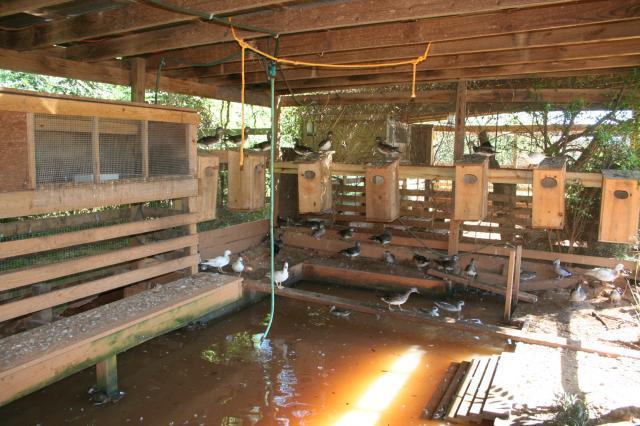 Visitors...
On the day we poured the concrete we had about 60 teal fly in, our long term visitors of black ducks 45-50 who have a blond mallard that flies with them and about 200 Canadian geese
This is the view from the back of our new aviary. Those are the wild teal in the middle and the wild black ducks on the right side. I did get closer to them and will post when I find those pictures. They hung around for 2 days and are still making visits back.
These are all Wild Canadian Geese that fly in and out. Most all of the Mallards pictured here are ones that we have raised and that hand around.
I also have 1 Pintail hen that escaped from the old pen while we were putting in her nesting box and she is still hanging around even with all of the wild ducks flying in and out.