General Information
Breed Purpose

Dual Purpose
Comb

Single
Broodiness

Frequent
Climate Tolerance

All Climates
Egg Productivity

Medium
Egg Size

Large
Egg Color

Light Brown
Breed Temperament

Friendly, Easily handled, Calm, Bears confinement well, Quiet, Docile
Breed Colors/Varieties

USA APA: Buff, Black, White, BlueSplash in not recognized at this time.Also there are a few other colors of Orpington Projects under way in the USA as of today.
Breed Size

Large Fowl
APA/ABA Class

English
Color

The original breed colours/varieties are black, white, buff, blue and splash
The popular Orpington breed originated from the town of Orpington, Kent, in south-east England, where the original black Orpington was bred by William Cook in 1886. (Mr Cook also created the Orpington duck breed). Mr Cook crossed Minorcas, Langshans and Plymouth Rocks to create a new hybrid breed, from which he selected to breed a black bird, that would also exhibit well, by hiding the dirt and soot of London.
The breed was shown in Madison Square Gardens in 1895 and its popularity soared. Its large size and soft appearance together with its beautiful colours make it very attractive breed and as such its popularity has grown as a show bird rather than a utility breed. Hens are fairly often broody and are good mothers. Although rather heavy, they are able to fly small distances but rarely do so.
The original breed colours/varieties are black, white, buff, blue and splash. Although there are many additional varieties recognised throughout the world, for example the Jubilee Orpington, only the original colours are recognised by the American Standard, the Buff being the most common colour. In the beginning of the twentieth century, Herman Kuhn of Germany developed a Bantam variety of Orpingtons and the Bantam retains the appearance of the LF Orpingtons, but in a smaller size. There is a large variety of colours in the Bantam version, including black, blue laced, white, buff, red, buff black laced, barred, buff Columbian, and birchen.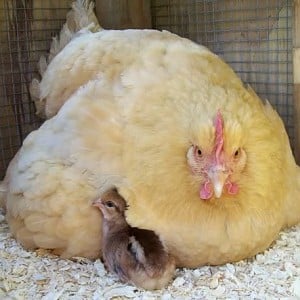 Orpington hen with chick
Orpington chick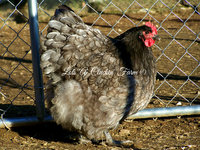 Orpington hen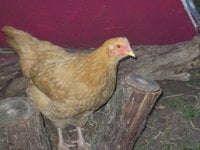 Orpington juvenile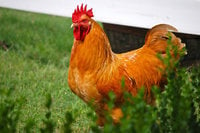 Orpington rooster
For more about Orpingtons and their breeders's and owners' experiences with them, see our breed discussion here:
https://www.backyardchickens.com/threads/chicken-breed-focus-orpington.1088559/