Jul 26, 2016
3,299
4,356
391
My Golden Comets and Barred Rocks love their wet feed.
For my standards I measure 2 Tablespoons dry for each chicken.
I add water to make a soupy mash, the crumbles quickly soak up the water to make an oatmeal consistency.
I serve immediately.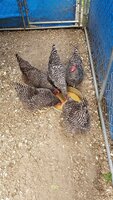 . This is a treat. They have dry crumbles available all day.
I use cold water during hot weather and room temperature water in above freezing temps.
Make sure the feed is fresh. I had feed go bad at just 5 months past mill date. Consumption and egg production dropped off drastically.
Appetite and egg production resumed when I gave them fresh feed. GC