Coturnix quail are the best survivors i have ever seen, and i just needed to share this girl's story. she was hatched at an expo i was speaking at, and her chances were looking dim. i read that the condition only worsens with age and they often die only a few days old. still, i took her home. many people advised me that it would be more humane just to put her down since she would otherwise starve, but i still had hope and gave her a few days.
her beak was severely crooked and her right eye was missing. it looked as if the whole top half of her head was swiveled. i gave her special attention and sugar water to keep calories in her while she figured out how to eat. the rest was totally up to her. amazingly, she learned how to shovel up food! she kept growing. i was still hopeful, but hesitant to think she would reach adulthood.
her condition did continue to become more pronounced, but this little bird stayed determined and continued compensating for the deformity. needless to say, i was proud of her and becoming more optimistic by the day. i started sharing stories and photos of her on facebook for my family. everybody who was rooting for her from the beginning asked to see her whenever they visited. she continued to grow and developed an enormous personality.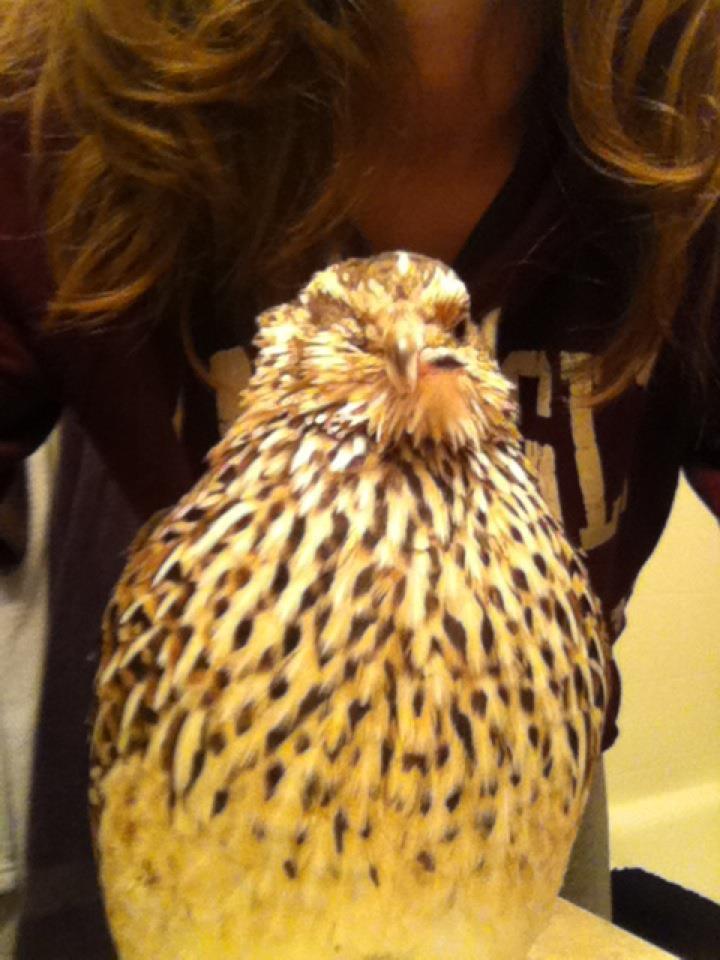 here she is today. always cheeky and stuffed with character. she is quite fat and has a special cage next to the back door where she is accompanied by any other females that are needing some time away from the group. she is allowed to roam the yard often (a special priveledge, indeed.) the top part of her beak turned down and it seems to have quit worsening. needless to say, she has become sort of a mascott and her bravery is an inspiration.

if anybody else has a special needs bird, i would love to hear their story