So, first of all, I have to say a big fat THANK YOU to all of the gals on here that have provided me with so much info. I used this site to persuade my mom and dad to get ducklings so I am forever in your debt.

So without further ado let me present to you my brand new babies Donna and Jazz!!
Donna to the left and Jazz to the right.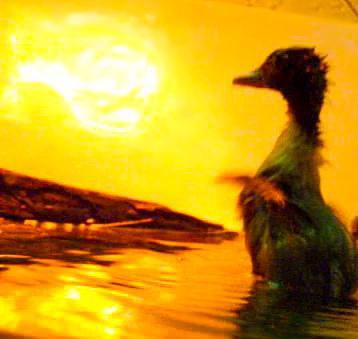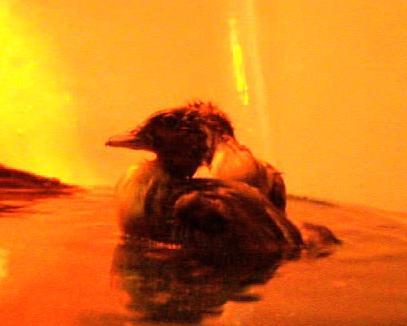 Our first bath! (The red is from the brooder light that I left on to keep the water a little warm.
I took mainly video so I'm trying to extract more pics.
Yesterday was their first bath. I put a towel down in the tub and filled it with a few inches of water. Then I spread out some mashed up greens and a little bit of feed so they could forage and have fun finding it. They LOVED IT! Donna immediately dove under and looked like a little torpedo going back and fourth. Jazz stuck to the little flat rock (placed in there so they could get out if they want) for a moment then jumped in and started to peep loudly! They loved it and had a great time eating their greens!
I've had them for a few days now and they are certainly a handful! They follow me EVERYWHERE and I have them out all the time. Whenever I make a quaking sound they come running to me (although they don't get very far anyway) and they always nestle in under me or on top of me and fall asleep. I love being mamma!
I also wanted to say that I've started a twitter for Donna and Jazz and want to invite all the twitterers here at BYC's duckland. Friend me so we can talk about ducks! On that same note I made a Duck Unlimited nest for duck lovers to gather and have a Donna&Jazz myspace where I need friends too! I'm going to try to blog about my adventures in duck raising so any comments or advice would be very appreciated!
Twitter:
http://twitter.com/DonnaxJazz

Twitter
Nest (Group) If you're a twitter user and a duck lover you should join!:
http://twinester.com/ducks-unlimited

Myspace
:
http://www.myspace.com/donnaxjazz

Ok
, so enough shameless self promoting.

Thanks again to everyone on here for the great info. I don't know what I would do without you!