I posted last month on my rescue bunny. Obviouly I lack some tech skills as I tried to update that post but could not figure it out....
Here is a quickish summary
I have a bunny that was rescued from a cull (she was a 3 week oldish orphan). She was vet checked and healthy. I have fed her timothy hay, pellets, fresh veggies, fruit and dandelion leaves. She is extremely social and I had been taking her to school daily and home at night. She has a buddy who was rescued at the same time as her although we do not think they are litter mates (or whatever we call them in bunny lingo).
Edited to add that she is about six months old now.
One day my bunny seemed very tired at the end of the day and when I took her home I noticed she was "clumsy" falling particularly to her right side. I kept her home for a week and she improved. Wry neck was questioned when I initially posted but she appeared to have no neurological signs ...no head tilt....no eye rolling....no shaking...no weakness in her limbs. She seemed to improve with rest over the week and was scratching at her cage door whenever she saw me getting ready for work in the morning so I took her back in after about ten days.
Update is that I usually take her in her sheepsking lined carrier to transfer her into her school cage (slightly spoiled bunny). This time I thought I would take her own cage in case playing with her buddy aggrivated things for her. She was quite slippy in the car and I am really upset that I put her at risk to reinjure herself. When I brought her home that night she was really having a hard time and flopping lots to the right side. We visited a vet the next day who could see nothing wrong...checked ears...neurological...limbs....and thought it was likely a soft tissue injury or perhaps spinal injury...treatment for either would be rest.
Two weeks later...she is improving but still has the issue of falling to the right when she turns. She does well on our carpet but does need to go to her cage at night and when we go to work as we are worried about her chewing cords or injurring herself in other ways. In her cage, even with a foam floor, she slips all over.
I am wondering if we should be doing more? Our vet admits to not being highly rabbit aware.
Thoughts?
We really do love this little gal and want to do the best for her that we can.
she is the brown one...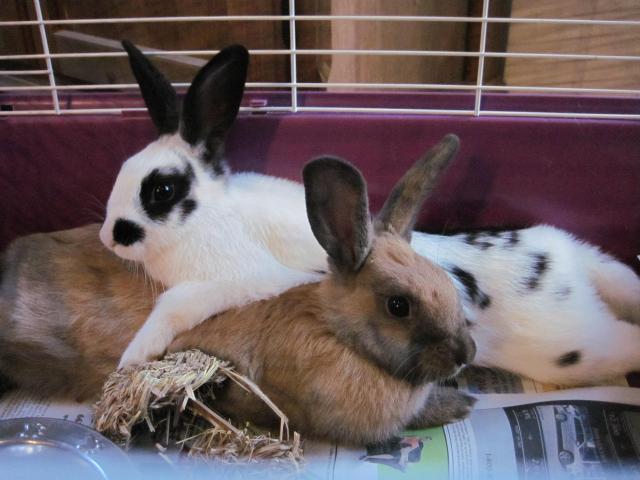 Last edited: