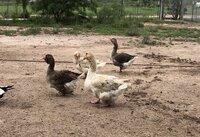 Hello there! I'm new to the breed, as I came across them by accident on fb.
I fell in love and just had to have some!! I bought 2 pairs, 1 buff and 1 gray pair. I had 1 gray baby hatch from these birds!

As well as 6 hatching eggs that I had shipped to me by a different person, he kindly sent 8 eggs! Out of the 8 eggs 6 developed and 3 hatched successfully, I love watching these babies grow!

I have seen some AMAZING birds and hope to add some more diversity to my birds, as this breed is quite known for having a few fertility issues. I hope this amazing breed can become more well known to everyone!
Anyway, I have been searching for a thread dedicated to this amazing breed and didn't find one, so I decided "why not make one!"
Share pics and info about this breed on here!!