The call came from our Post office at 6:30 this morning. "We have a box with your name on it. It's peeping!" It was like Christmas morning (but definitely more exciting for this mama!) DS and I flipped the brooder light on, grabbed our shoes, filled the water dish and were at the loading dock at the post office just before 7.
Our PO is pretty urban and it was so cool to have otherwise grumpy grown women and men so excited to help my son pick up his chicks! I love our neighborhood (even if we are possibly the first chicks on the block). And as a whole group of postal employees crowded around, this is what we saw: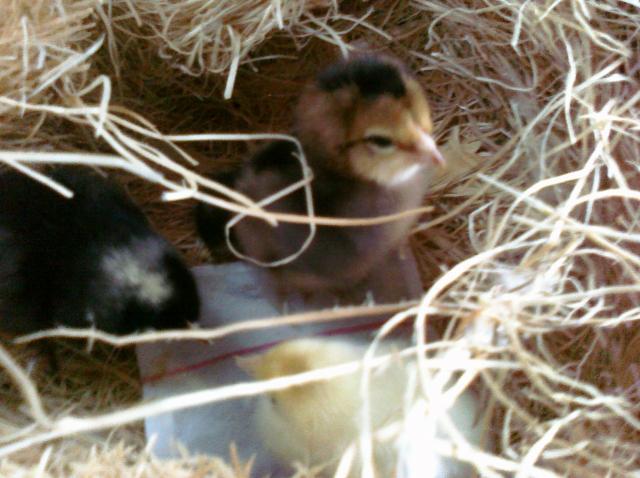 Four tiny little fuzzy booties, leaping and peeping up a storm. DS chatted reassuringly all the way home. (We did make a tiny detour through the Starclucks drive-thru so I could make it through a whole day of Chick-o-vision without falling asleep.) We were very excited to finally have our peepers in their brooder: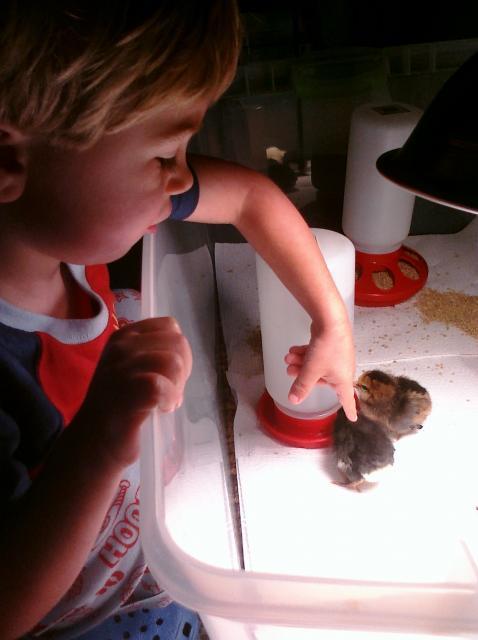 Everyone seems strong and healthy. No pasty butt to begin with but we'll keep an eye on that. They took right to water (with a wee bit of sugar) and their chick crumbles. And then came the pooping!!! Oh, the pooping is my DSs favorite show on Chick-o-Vision. (Nothing is funnier than poop when you are 3!)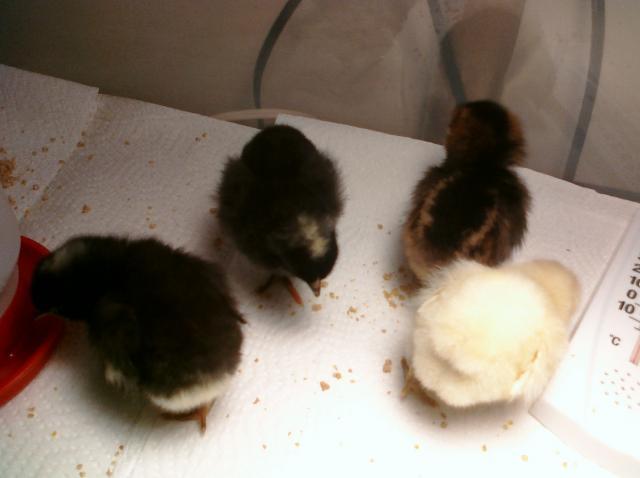 So, 2 barred rocks. Both sweet and friendly. Easily held. (We are already using Noodleroo's hand egg and warm breath technique with great results.) I ordered 2 Easter Eggers. Munk munk (little chipmunk colored girl) is feisty. Chock full of personality, that little lady. I'm a little surprised by the blondie. Is she an EE?
I expected them both to be chipmunky. The blondie is a wee bit bigger and very docile. Easter Eggers come in blonde too, don't they? She isn't puffy cheeked like Munk Munk, so I'm a little confused. But I'm brand new to this. Confusion will abound over the next few weeks!
I HAD to run into work to do some e-mail. I will try and get pics of them individually later. I know this is mostly just exciting for me but since you are all so good at humoring me... I'll post 'em anyway so you can lavish my girls with the praise and accolades they so rightly deserve.
-chris
P.S. Any other MPC mamas who got their girls this week, I'd love to compare notes as they grow since they might be sisters!!!
Last edited: