Weirder, stranger, quirkier, lovelier
Dec 18, 2018
15,561
144,177
1,417
My Coop
My first chicken coop was an upturned trampoline covered in chicken wire. My chickens were rescues ~ so I don't feel as bad I might for being so totally ignorant about chickens. They were only in the coop @ night anyway & ventilation wasn't a problem. The girls thrived & provided our family of 7 with plenty of eggs for the duration of their lives.
This time I wanted to do things right but round here sometimes the way to get things done is to push the envelope a bit. I bought a prefab. My oldest girl was so excited about it she did the build in her jim~jams.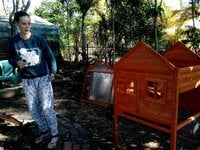 I had my spot all picked out in the shadiest, most sheltered free spot in the yard. I'd picked the breeds I wanted. I'd picked out the breeder I was going to get my POLs from but we live on an island.
The sellers of the coop happily took our money ~ then realised they couldn't deliver!!

We got it dropped @ one of the kids & waited...& waited...& waited until the island carrier could pick it up. * sigh * It took weeks longer than it should have.
I am notoriously devoid of any sense of direction. It comes of living some place where it doesn't matter which direction you go it is only 3 minutes to the water. So I ropped in YD [youngest daughter] to do the navigating to pick up chickens [3 BRs, 2 BAs] I was worried about transporting: 1 hour's drive, 1 hour on the barge, in August on the back seat. I thought they would be more freaked out...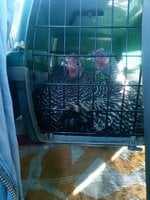 But we had an egg the very next morning.