This post is for 1) to show off my pretty boys, and 2) to help me decide which one to keep.
I have 4 roosters and need to downsize to only 1. If you had the 4 roos below, which one would you keep? (Simply by judging by the way they look)
(I think I have the one I want to keep picked out already, so the other 3 will be available for rehoming, near Salisbury, NC)
1.
2.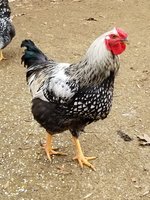 3.
4.
Thanks for looking!