Apr 12, 2015
3,759
20,092
852
I've gone from free-ranging to containment for my birds, and my eggs are suffering. I know that yolk color and diet is not "supposed" to affect taste, but I don't know if I buy it. How can certain foods like onions change the taste, but a wide variety of good things not provide a more robust flavor, as it does color? I still love the flavor of my eggs, but I don't think that they're as rich. Maybe that's my frustration at the color.
Regardless, I'm after a darker yolk, if nothing just to know my birds are getting a varied diet. Below is a photo of my eggs, past and present.
Egg 1 is from a month ago, free range
Egg 2 is from two weeks ago, just layer crumbles. (Layena layer pellets)
Egg 3 is from today. Switched feed two weeks ago to a non gmo feed with alfalfa. I've been fermenting feed and providing some alfalfa hay as well as weeds and grass clumps.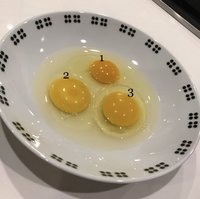 I'm only noticing a slight difference from egg 2 to 3. (Yolk size is due to being a newer layer before)
What do you do for your birds confined to a run to maintain a rich egg color?
I'm thinking about sprouting seeds, but wondering if I have to go all the way to the green stage to affect the color of the eggs?
Also, when experimenting, how many days can it take for diet to actually have an effect on the egg color?
Would love any tips you have on this!