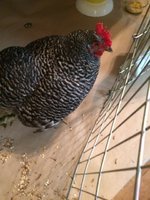 Meet Trouble, she will be 4 years old this July. Last night, my husband & I heard a weird bark. We look at our dog and she gave us the "It's not me look." None of the 4 chickens pointed fingers but while doing the little things we do outside. My husband noticed that the sound came from Trouble. Armed with iPhone, he video taped the sound for me to see. Both of us began to search the web. We thought was something caught in her throat? Being a nurse (it doesn't help with chickens), I thought we should keep her away from everyone else. It seem by all the descriptions and videos that I could find in the 5-10 minutes of panic that she has a respiratory infection. Great! we haven't had one of those before - I was up half the night (with worry) listening to her cough. Last night, we brought her inside - bough a warm vaporizer and got vapors. She has very red waddles and comb they were very warm last night. I thought a fever to keep her warm and turned the heater to 70. She sounded very congested. We checked number 2 her best pal (lucky) and she has no signs of illness. The plan was first this morning to go to the farm store and get some antibiotics. I thought gee, I could give a shot or get her to take some liquid. I am determined.
Guess what I found out. We are no longer allowed to buy animal antibiotics over the counter. My first question was "says who?" I was told this is a new from the FDA. Is this true? I am in Washington State and it was 7am in the morning plus my having only 2-3hours sleep. I am an expert worrier and do so when any of our chickie-girls are sick.
I was a little nervous at the thought but Trouble isn't a laying hen anymore. She is just boss chicken. I bought the VetRx - looked at it and said great - chicken vapor rub. No directions on how do you administer this stuff. So, back to doing online research. I put some on each nare. Some syringe fed her some in warm water. Is this enough? She wasn't happy with me at all. She really stressed out when I was trying to give her water with electrolyte (baby booster). She has eaten some of her breakfast. (Egg with polenta and a few crumbles sprinkled on top.) I can't tell if she drinking on her own. I have also added a couple of drops of oregano oil.
I know poop is important so - I got this fresh image and I don't see at issues. Do you?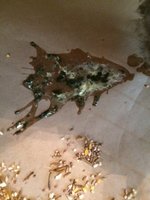 So, I am just asking in case anyone lives in Canada. Are they allowed to buy their animal antibiotics without a vet prescription?
PS. I won't put her down unless she is in distress. Right now she is sleeping while standing.
Last edited: