My Chicken Tractor

After searching the BYC Coop pages and a bunch on line, I found the perfect tractor to copy from that looked super easy. So I went and bought everything I'd need!
Here's the list of supplies and how much they cost!
3 - 1x6 8 ft long (treated) $4.97 each total $14.91
8 - 1/2 inch PVC pipe $1.22 each total $9.76
1 - 50 ft. roll of chicken wire $38.50 total $20.00 (Didn't even use half the roll)
12 - Pipe Straps $1.68 for 6 total $3.36
8" Cable ties/Zip ties $17.99 for 1000 used about 200 total $3.60
4 - PVC 90 degree elbows .28 each total $1.12
1- 3/8" 6ft lond threaded pipe $5.80
8 - Hex nuts 12¢ each total 96¢
2- Cabinet handles $3.68 each total $7.36
2 - tires (I already had these but I heard you can get some pretty cheap from Harbour Freight)
I already had a tarp and the rope laying around.
For a grand total of $69.87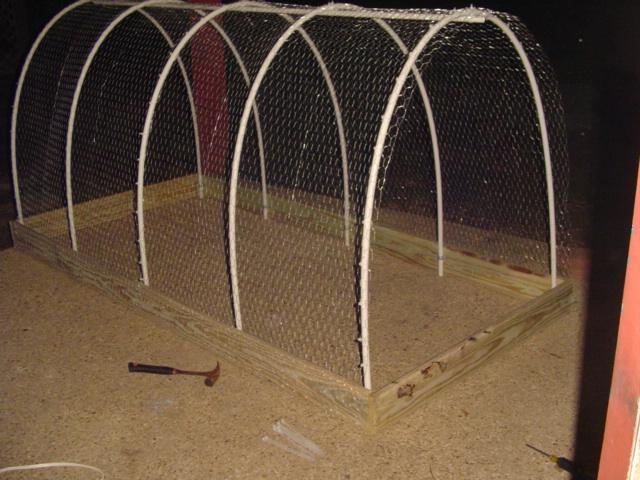 I cut one of the 1x6 in half and screwed them together. I bent the first pvc pipe and placed it on the corner and screwed the straps on. Then I went to the other end and did the same. I then measured the distance in between the 2 and placed the middle one, and did the same thing for the next 2 so they would be equally spaced. I ran the piece on the top and started in the middle and zip tied it loosely to just hold it on there. After I got all the ties on I made sure I had it centered and started tightening them. I used 2 zip ties for each pipe to make sure it was very secure. I them started with the chicken wire, used the poultry staples and secured it on each side. Once it was completly covered I secured the wire to the pipe with the zip ties. On the middle section I secured the 2 pieces of chicken wire together and to the pipe at the same time.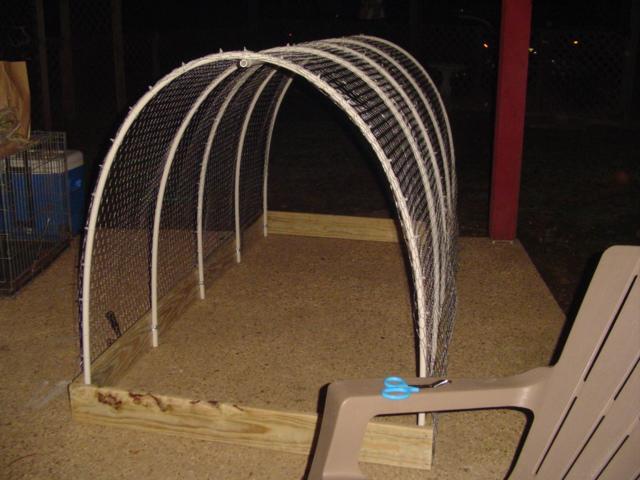 As far as the door went I figured out how big I wanted it then measured 2 pieces of pipe and spaced them evenly. Screwed the straps on and zip tied them to the top. I them measured another piece of pipe for the top and screw it into the top of the arch. I then measured the pieces for the door and kept checking to see if they would fit with the 90 degree elbows on them. Once I had the door together I wrapped it in chicken wire and zip tied the wire on it. I used 2 zip ties put together to use as hinges! I don't believe it's going to work that well so I'm going to have to come up with another idea! After that I just stapled a tarp over it.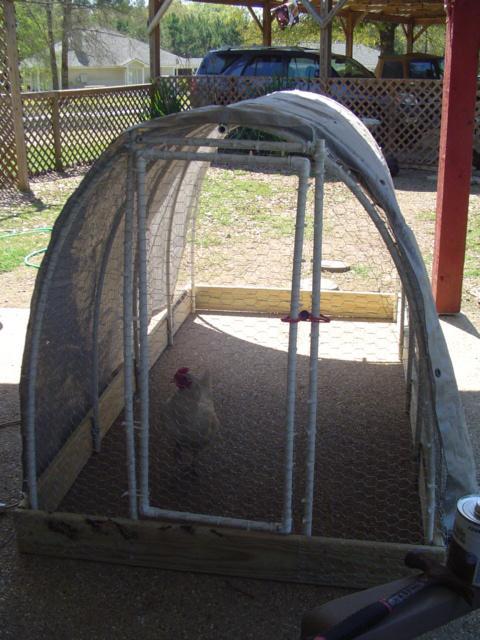 First I added the handles so it would be easier for me to lift up on the ends when I put on and take off the tires, I bought a 3/8" 5 ft long threaded rod from Lowes. You need to buy a pipe that fits your tires. My FIL had to cut it down for me. I used a 3/8" drill bit to make my holes. Fed the pipe through the holes and and we measured it to have 3" hanging out on eash side. I placed 3 hex nuts one right after the other so the tire would be spaced far enough away from the wood. I put the last nut once the tire was on.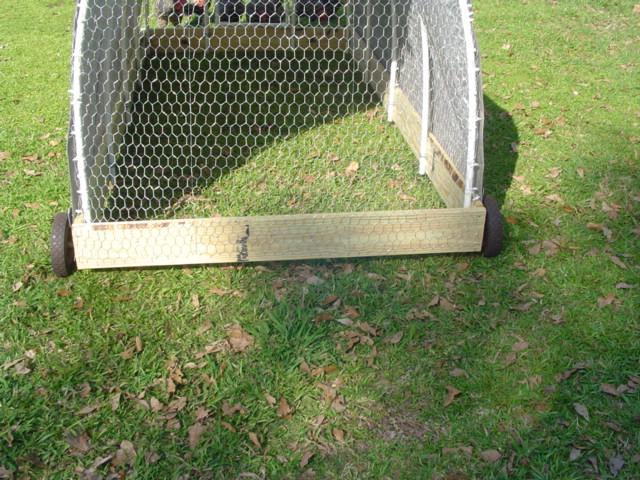 I then drilled 2 more holes in the front to put my rope through. Put knots in the ends and it was ready to go! Tried it out by pulling it all over the yard!!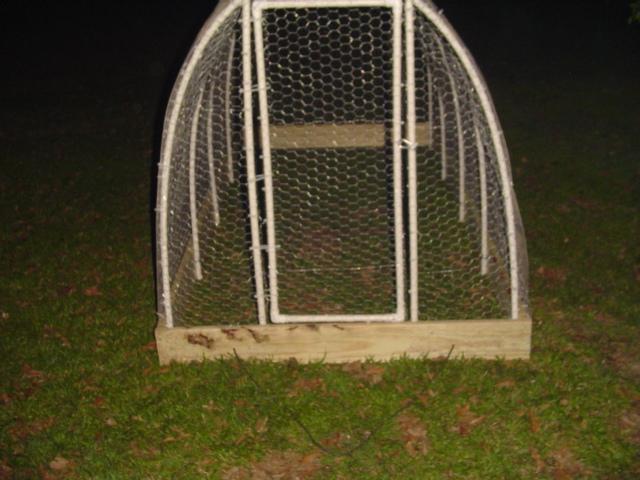 Then of course I had some nosey visitors!!

Thanks for looking!!
​